Model Desain Pembelajaran Tematik Terpadu Kontekstual Untuk Meningkatkan Kebermaknaan Belajar Siswa SD
Mawardi Mawardi

Pendidikan Guru Sekolah Dasar, FKIP, Universitas Kristen Satya Wacana

Naniek Sulistya Wardani

Pendidikan Guru Sekolah Dasar, FKIP, Universitas Kristen Satya Wacana

Agustina Tyas Asri Hardini

Pendidikan Guru Sekolah Dasar, FKIP, Universitas Kristen Satya Wacana

Firosalia Kristin

Pendidikan Guru Sekolah Dasar, FKIP, Universitas Kristen Satya Wacana
Keywords:
R & D, Instructional Contextual Integrated Thematic Design Model, Meaningful Learning
Abstract
This study aims to: 1) develop syntax of instructional contextual  integrated thematic design models to improve the meaningful learning of elementary students; 2) describe an validity models; and 3) describe the level of effectiveness of the model. This R&D research consists of a preliminary study, model designing and developing to be validated by experts, the model testing. The preliminary field testing involved 4 teachers and 57 elementary students participants. The main field testing  involved 8 teachers and 94 students. The research  instrument are questionnaires and test. This research findings are: 1) the model steps includes: a) setting a theme; b) adding sub-themes; c) the analysis of SKL, KI, KD and making indicators; d) the making of nets of sub-themes; e) developing syllabus; f) developing  RPP; g) compiling a fragment of the teacher's book; and h) developing fragments of student books; 2) the model validity level is in the very high category (86%), the syllabus and lesson plans and the material are in the high category (69.8%; 69%); and 3) the meaningfulness of student learning has increased, namely in the preliminary field test increased from 49.49 in pretest to 69.44 in post-test, and in the broad field test, the value increased greater than 47.98 to 70.43. The statistical test using the t-test ensures that the increase is significant, because the probability value (0.00) is smaller than the value of α = 0.05.
Downloads
Download data is not yet available.
References
Ardiani, N. F. W., Guna, N. A., & Novitasari, R. (2013). Pembelajaran Tematik dan Bermakna Dalam Perspektif Revisi Taksonomi Bloom. Jurnal Satya Widya, 29(2), 93-107.

Arifin, S. (2016). Pengaruh Pembelajaran Tematik-Integratif Berbasis Sosiokultural Terhadap Hasil Belajar Peserta Didik Kelas Iii Di Sekolah Dasar. Jurnal Profesi Pendidikan Dasar, 3(1), 16-25.

Borg, Walter R. and Gall, Meredith D. (2003). Educational research. New York: Pearson.

Borg, Walter R., Gall, P.,Joyce, and Gall, Meredith D. (2007). Educational research. An introduction. Eighth edition.New York: Pearson.

Fatchurrohman. (2015). Pengembangan Model Pembelajaran Tematik Integratif Eksternal dan Internal di Madrasah Ibtidaiyah. Jurnal IAIN Salatiga. 2 (2), 1-15.

Fogarty, R. (2009). How to Integrate the Curricula, Third Edition. California: CORWIN, A Sage Company.

Hermawan. Asep. (2015). Pengembangan Model Pembelajaran Tematik di Kelas Awal Sekolah Dasar. Jurnal Universitas Pendidikan Indonesia. 2 (1), 1-14.

Hosnan. (2014). Pendekatan Saintifik dan Kontekstual dalam Pembelajaran Abad 21. Bogor: Ghalia Indonesia.

Jamaluddin. (2015). Pengembangan Model Pembelajaran Tematik Terpadu Kontekstual bagi Anak Usia Dini di Taman Kanak-Kanak Kelompok B. Tersedia di http://www.academia.edu.

Joyoatmodjo, Soetarno. (2011). Pembelajaran efektif, pembelajaran yang membelajarkan. Surakarta : Universitas Sebelas Maret Press.

John,Y.J. (2015). A "New" Thematic, Integrated Curriculum for Primary Schools of Trinidad and Tobago: A Paradigm Shift. International Journal of Higher Education 4 (3),172 – 187.

Julianti, I. A. R., & Mawardi, M. (2018). Penerapan Desain Pembelajaran Tematik Integratif Alternatif Berbasis Sub-subtema untuk Meningkatkan Kebermaknaan dan Hasil Belajar. Jurnal Publikasi Pendidikan, 8(3), 206-215.

Kemendikbud. (2013). Permendikbud No.81A tentang Implementasi Kurikulum. Jakarta: Kementerian Pendidikan dan Kebudayaan.

Kharisma, Istna & Mawardi. (2018). Implementation of an environmental-based alternative integrative thematic model to increase meaningfulness and learning outcome. Jurnal Pendidikan dan Pengajaran,51 (3), 154-162

Kim, M. K., & Cho, M. K. (2015). Design and Implementation of Integrated Instruction of Mathematics and Science in Korea. Eurasia Journal of Mathematics, Science & Technology Education, 11(1), 3-15.

Koh, J.H.L. (2017). Designing and integrating reusable learning objects for meaningful learning: Cases from a graduate programme. Australasian Journal of Educational Technology, 33(5), 136-151.

-----------.(2014). Materi Pelatihan Guru Implementasi Kurikulum 2013. Jakarta: Badan Pengembangan Sumber Daya Manusia Pendidikan dan Kebudayaan dan Penjaminan Mutu Pendidikan.

Rini, R., & Mawardi, M. (2015). Peningkatan Keterampilan Proses Saintifik dan Hasil Belajar Siswa Kelas 4 SDN Slungkep 02 Tema Peduli Terhadap Makhluk Hidup Menggunakan Model Problem Based Learning. Scholaria: Jurnal Pendidikan dan Kebudayaan, 5(1), 103-113.

Munawaroh, I. (2010). Pengembangan Model Pembelajaran Tematik Untuk Mengembangkan Keterampilan Berpikir Kritis Siswa SD Kelas Rendah. Jurnal Penelitian Ilmu Pendidikan UNY, 3(1), 1-20

Pringgondani, A.T.W. (2016). Pengembangan Model Desain Pembelajaran Tematik Integratif berbasis Lingkungan (Skripsi, Pendidikan Guru Sekolah Dasar – FKIP – UKSW)

Prastowo, A. (2014). Pengembangan Bahan Ajar Tematik. Yogyakarta: Diva Press.

Prastowo, A. (2014). Pemenuhan Kebutuhan Psikologis Peserta Didik SD/MI melalui Pembelajaran Tematik-Terpadu. Jurnal JPSD (Jurnal Pendidikan Sekolah Dasar), 1(1), 1-13.

Sagala, S. (2005). Konsep dan Makna Pembelajaran. Bandung: CV Alfabeta.

Sari, L. I., Satrijono, H., & Sihono, S. (2015). Penerapan Model Pembelajaran Berbasis Projek (Project Based Learning) untuk Meningkatkan Hasil Belajar Keterampilan Berbicara Siswa Kelas VA SDN Ajung 03. Jurnal Edukasi, 2(1), 11-14.

Sukmadinata, Nana Syaodih. (2004). Kurikulum & Pembelajaran Kompetensi. Bandung: PT. Remaja Rosdakarya

-----------. (2007). Metode penelitian pendidikan. Bandung: Roda.
Sundayana, Wachyu. (2014). Pembelajaran Berbasis Tema. Jakarta: Erlangga.

Trianto. (2009). Mendesain Model Pembelajaran Inovatif-Prograsif : Konsep, Landasan, dan Implementasi Pada Kurikulum Tingkat Satuan Pendidikan (KTSP). Jakarta: Prenada Media Group.

----------. (2011). Desain Pengembangan Pembelajaran Tematik Bagi Usia Dini TK/RA & Anak Usia Kelas Awal SD/MI. Jakarta: Prenada Media Group.

----------. (2012). Model Pembelajaran Terpadu. Jakarta: PT Bumi Aksara.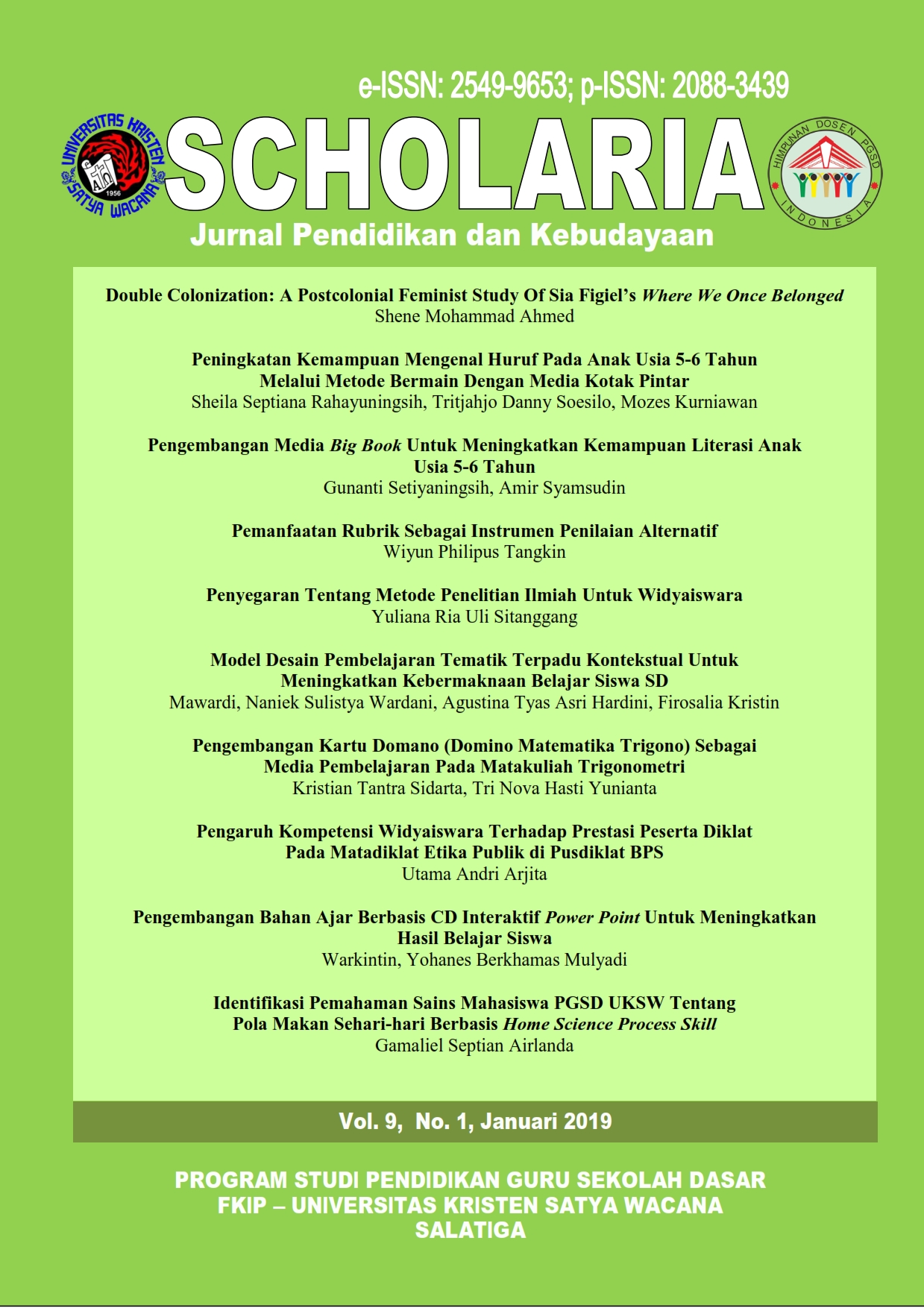 How to Cite
Mawardi, M., Wardani, N., Hardini, A., & Kristin, F. (2019). Model Desain Pembelajaran Tematik Terpadu Kontekstual Untuk Meningkatkan Kebermaknaan Belajar Siswa SD. Scholaria: Jurnal Pendidikan Dan Kebudayaan, 9(1), 48-61. https://doi.org/https://doi.org/10.24246/j.js.2019.v9.i1.p48-61
This work is licensed under a Creative Commons Attribution 4.0 International License.

Scholaria: Jurnal Pendidikan dan Kebudayaan is licensed under a Creative Commons Attribution 4.0 International License