LEARNING MEDIA DEVELOPMENT OF BOARD GAME "THE LABYRINTH OF TRIGONOMETRY" IN TRIGONOMETRY MATERIALS FOR THE 10th GRADE SENIOR HIGH SCHOOL
Tri Nova Hasti Yunianta

Fakultas Keguruan dan Ilmu Pendidikan, Universitas Kristen Satya Wacana
Keywords:
learning media, board game, trigonometry
Abstract
Interaction is essential in mathematics learning process, so effective means to promote students' interaction is compulsory. This research was appointed to develop the board game learning media "The Labyrinth of Trigonometry", which is adequate to be implemented in trigonometry problem practices. Employing Research and Development (R&D), this research utilized the ADDIE model built of 5 stages, namely: analysis, design, development, implementation, and evaluation. Notably, this board game had been clarified to be a valid learning media by teaching material and media experts, exceptionally obtained 94% and 86% category. 35 students of 11th grade of Senior High School 1 Ambarawa were selected as the participants. The result showed that the practical index obtained excellent category (96%) and the Wilcoxon test significance result was 0.00 (less than 0.05) with higher posttest mean score than pretest. Eventually, the researcher concluded that "The Labyrinth of Trigonometry" was a valid, practical, and effective learning media.
Downloads
Download data is not yet available.
References
Ahmad, H. 2017. Efektifitas Penggunaan Alat Peraga Kodama dalam Mengerjakan Soal Matematka Materi Persamaan Garis Lurus. Jurnal Pendidikan PEPATUDZU, 13(2), 118-132. Diperoleh dari http://journal.lppm-unasman.ac.id/index.php/pepatudzu/article/view/111/103
Cindra, A. 2017. Designer Waroong Wars Ajak Masyarakat Surabaya Gunakan Board Game sebagai Media Belajar Diperoleh dari http://boardgame.id/surabaya-board-game-media-belajar/
Darmawan, M. D. dan Pratiwi, T. I. 2016. Pengembangan Media Permainan Ular Tangga Interaksi Sosial pada Siswa Kelas XI Multimedia SMK Negeri 1 Driyorejo. Jurnal BK Unesa, 6(2), 1-7. Diperoleh dari http://jurnalmahasiswa.unesa.ac.id/index.php/jurnal-bk-unesa/article/view/14569
Erlitasari, N. D. & Dewi, U. 2016. Pengembangan Media Boardgame Garis Bilangan Materi Bilangan Bulat pada Mata Pelajaran Matematika Kelas IV SD Ngampelsari Candi Sidoarjo. Jurnal Mahasiswa Teknologi Pendidikan. 10 (1), 1-12. Diperoleh dari http://jurnalmahasiswa.unesa.ac.id/index.php/jmtp/article/view/15187
Harfiyanto, D., Utomo, C. B. & Budi, T. 2015. Pola Interaksi Sosial Siswa Pengguna Gadget di SMA N 1 Semarang. Journal of Education Social Studies, 4(1), 1-5. Diperoleh dari https://journal.unnes.ac.id/sju/index.php/jess/article/view/6859
Limantara D., Waluyanto H. D. dan Zacky A. 2015. Perancangan Board Game untuk Menumbuhkan Nilai-nilai Moral pada Remaja. Jurnal DKV Adiwarna, 6(1) Diperoleh dari http://publication.petra.ac.id/index.php/dkv/article/download/3321/3004
Ningrum, S. S. & Mariono A. 2016. Pengembangan Media Visual Papan Permainan pada Materi Bentuk Aljabar Mata Pelajaran Matematika Kelas VII SMP Siti Aminah Surabaya. Jurnal Mahasiswa Teknologi Pendidikan, 7(1), 1-12. Diperoleh dari http://ejournal.unesa.ac.id/article/18122/12/article.pdf
Pradipta, D. A., Vitantri, A. C. & Umah, U. 2016. Pengembangan Game Edukatif Monolita sebagai Media Pembelajaran Matematika Siswa SMP. Ed-Humanistics: Jurnal Ilmu Pendidikan. 1(1), 36-43. Diperoleh dari http://ejournal.unhasy.ac.id/index.php/ed-humanistics/article/view/14
Pribadi, B. A. 2011. Model Desain Sistem Pembelajaran. Dian Rakyat: Jakarta.
Rahmadani, S. 2016. Dampak Penggunaan Situs Jejaring Sosial terhadap Perilaku Menyimpang Siswa SMA Negeri 3 Makassar. Jurnal Sosialisasi Pendidikan Sosiologi, 3(1), 1-6. Diperoleh dari http://ojs.unm.ac.id/sosialisasi/article/view/2357
Sanaky, H. AH. 2013. Media Pembelajaran Interaktif-Inovatif. Kaukaba Dipantara: Yogyakarta.
Schunk, D. H. 2012. Learning Theories An Educational Perspektive. Yogyakarta: Pustaka Balajar.
Sudjana, N. dan Rivai, A. 2010. Media Pengajaran. Sinar Baru Algensindo: Bandung.
Sugiyono. 2009. Metode Penelitian Pendidikan (Pendekatan Kuantitatif, Kualitatif, dan R&D). Alfabeta: Bandung.
Wijaya, N., M, Tanudja, B. B., dan Salamoon, D. K. 2016. Perancangan board Game Pembelajaran Sopan Santun Untuk Anak Usia 6-10 Tahun. Jurnal DKV Adiwarna, 8(1), 1-9. Diperoleh dari http://publication.petra.ac.id/index.php/dkv/article/view/4359/3999
Yensi, N. A. 2012. Penerapan Model Pembelajaran Kooperatif Tipe Examples Non Examples dengan Menggunakan Alat Peraga untuk Meningkatkan Hasil Belajar Siswa di Kelas VIII SMP N 1 Argamakmur. Jurnal Exacta. 10(1), 24-35. Diperoleh dari http://repository.unib.ac.id/490/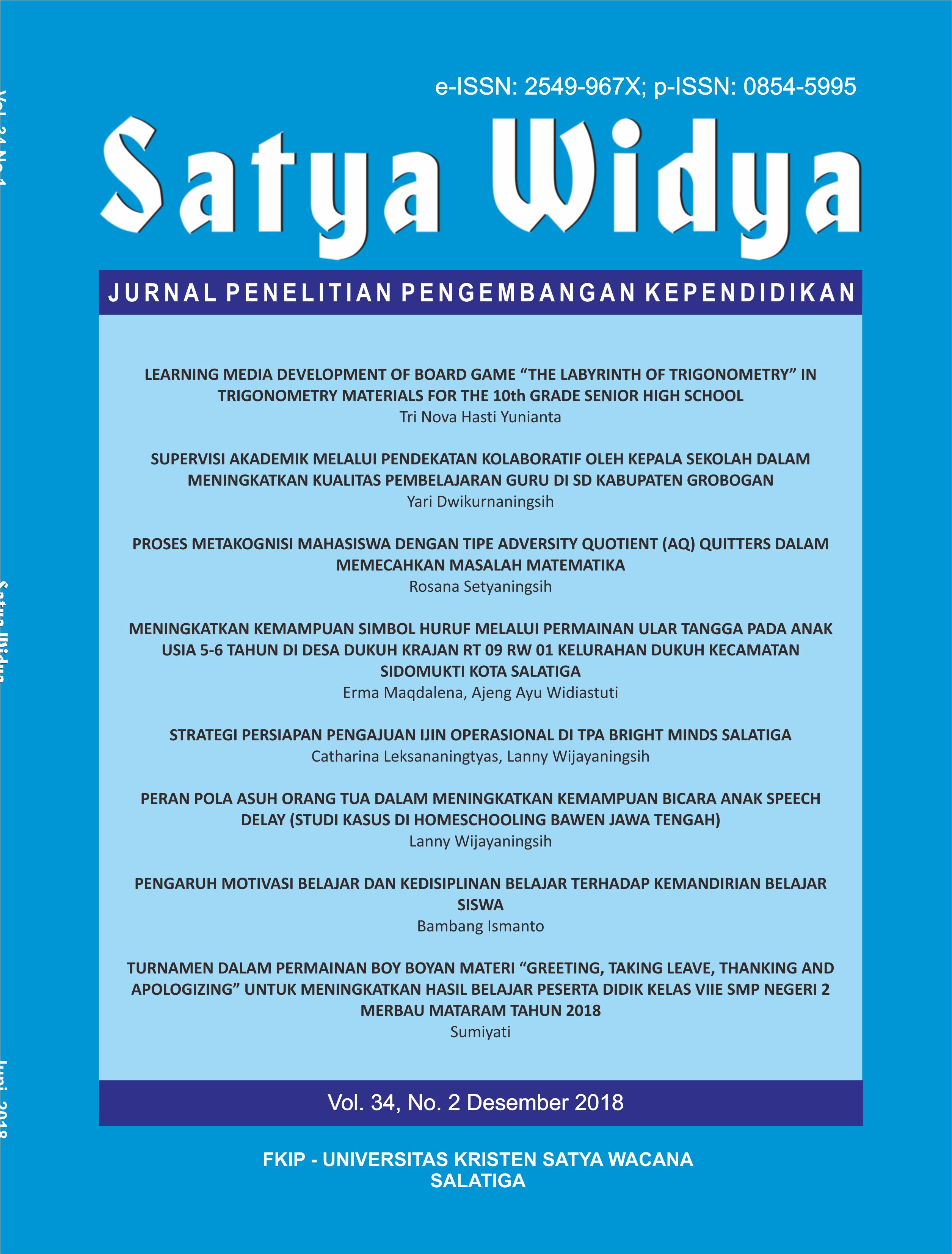 How to Cite
Yunianta, T. N. (2019). LEARNING MEDIA DEVELOPMENT OF BOARD GAME "THE LABYRINTH OF TRIGONOMETRY" IN TRIGONOMETRY MATERIALS FOR THE 10th GRADE SENIOR HIGH SCHOOL. Satya Widya, 34(2), 88-100. https://doi.org/https://doi.org/10.24246/j.sw.2018.v34.i2.p88-100
Satya Widya is licensed under a 
Creative Commons Attribution 4.0 International License