Pengaruh Supervisi Akademik Terhadap Peningkatan Kompetensi Guru di Daerah 3T (Terdepan, Terpencil, Tertinggal)
Herry Sanoto

Universitas Negeri Semarang

Soesanto Soesanto

Universitas Negeri Semarang

A T Soegito

Universitas Negeri Semarang

Kardoyo Kardoyo

Universitas Negeri Semarang
Keywords:
Academic Supervision, 3T, Education
Abstract
The purpose of this study was to determine (1) the implementation of academic supervision in the 3T area in Bengkayang Regency; (2) the influence of academic supervision in the 3T (frontier, outermost, and least developes) areas in particular in Bengkayang Regency on improving teacher competence and professionalism. This research is a mix method research with the Sequential Exploratory model which is a combination research method between qualitative methods first and then strengthened by quantitative methods. The research subjects in this study were school supervisors, school principals and teachers in the Bengkayang Regency area, which were included in the 3T category. The instruments used in this study were interview guides, questionnaires and also observations. The results showed that (1) the process of academic supervision carried out in the 3T area in Bengkayang Regency could not be implemented according to the provisions proposed by the government, because there was limited access to locations with long distances between schools. Another problem with the academic supervision process in the 3T area is the lack of evaluation or feedback given by supervisors to teachers, so that the shortcomings of teachers cannot be conveyed properly. (2) The academic supervision program that has been implemented in Bengkayang Regency has no significant effect on increasing teacher competence and professionalism. Many other factors influence the competence and professionalism of teachers in the Bengkayang Regency area.
Downloads
Download data is not yet available.
References
Adams, P., & McLennan, C. (2021). Towards initial teacher education quality: Epistemological considerations. Educational Philosophy and Theory, 53(6), 644–654.

Agustina, E., & Kristiawan, M. (2020). Developing a Module of Academic Supervision for Headmaster of Madrasah Ibtidaiyah. Education Jurnal, 3, 26–36.

Ahmadun, A., Martono, S., & Prihatin, T. (2021). The Effect of Academic Supervision and Principal Leadership Through Performance Motivation Toward The Teacher Performance. 10(2), 210–220.

April, D., & Bouchamma, Y. (2015). Teacher supervision practices and principals' characteristics. Alberta Journal of Educational Research, 61(3), 329–346.

Augustsson, G., & Jaldemark, J. (2014). Online supervision: A theory of supervisors' strategic communicative influence on student dissertations. Higher Education, 67(1), 19–33.

Chen, C.-C. (2018). Facilitation of Teachers' Professional Development through Principals' Instructional Supervision and Teachers' Knowledge- Management Behaviors. Contemporary Pedagogies in Teacher Education and Development.

Fendi, H., Hanafi, I., Ayu Monia, F., Sudarman, Aries Taufiq, M., & Eka Putri, R. (2021). Online-Based Academic Supervision during the Covid-19 Pandemic. Journal of Physics: Conference Series, 1779(1).

Göker, S. D. (2017). Reflective models in teacher supervision introduced by Education 4.0: The teacher in the mirror. Studies in Educational Research and Development, 1(1), 1–17.

Guerin, C., Kerr, H., & Green, I. (n.d.). Teaching in Higher Education Supervision pedagogies : narratives from the field. May 2015, 37–41.

Haris, I., Naway, F. A., Pulukadang, W. T., Takeshita, H., & Ancho, I. V. (2018). School supervision practices in the indonesian education system; perspectives and challenges. Journal of Social Studies Education Research, 9(2), 366–387.

Hasanah, U. (2014). Pengaruh Supervisi Akademik Dan Kegiatan Kelompok Kerja Guru Terhadap Kinerja Mengajar Guru. Jurnal Administrasi Pendidikan, 21(2), 123–135.

Ismail, I. B. (2018). An Important Role of Educational Supervision in the Digital Age. COUNS-EDU: The International Journal of Counseling and Education, 3(4), 115.

Japemar, Rusdinal, & Fauzan, A. (2020). The Effect of Academic Supervision, School Leadership, Organizational Culture, and Achievement Motivation on Teachers' Performance at Junior High Schools. 504(ICoIE), 177–180.

Kemdikbud. (2017). Panduan Kerja Pengawas Sekolah Pendidikan Dasar dan Menengah.

Khasanah, U., Kristiawan, M., & Tobari. (2019). The implementation of principals' academic supervision in improving teachers' professionalism in the state primary schools. International Journal of Scientific and Technology Research, 8(8), 1107–1115.

Nhu, N. T., Loi, N. T. N., & Thao, N. T. P. (2016). Factors affecting secondary and high school teacher professional competence in ethnic minority areas - A case of Tay Nguyen, Vietnam. International Journal of Education and Research, 4(11), 151–164.

Patel, Z. S., Tarlow, N., & Taw, S. H. (2021). Training and Education in Professional Psychology Assessment Supervision During COVID-19 and Beyond : Trainee Perspectives on the Supervision of Teleassessment.

Rahabav, P. (2016). The Effectiveness of academic supervision for teachers. Journal of Education and Practice, 7(9), 47–55.

Rismita, R. (2020). The Management Of The Education Operational Grant And Its Effects On School Development. JPI (Jurnal Pendidikan Indonesia), 9(2), 328.

Samudi, S. (2018). Penerapan Supervisi Akademik Sebagai Upaya Untuk Meningkatkan Kinerja Guru Sekolah Dasar. JURNAL PAJAR (Pendidikan Dan Pengajaran), 2(1), 142.

Sanoto, H. (2020). Penyusunan Standard Operating Procedures (SOP) Pada Dinas Pendidikan Kabupaten Bengkayang Dalam Rangka Peningkatan Mutu Manajemen Organisasi. Scholaria: Jurnal Pendidikan Dan Kebudayaan, 10(3), 263–268.

Sanoto, H. (2021). Manajemen Perencanaan Strategis Sistem Informasi Menggunakan Metode Tozer (Studi Kasus: SMK Bina Nusantara Ungaran). Scholaria: Jurnal Pendidikan Dan Kebudayaan, 11(1), 72–79.

Sanoto, H., & Sugito, A. T. (2020). Academic Supervision Management Model for Elementary School Teachers in the 3T ( Frontier , Underdeveloped , and Outermost ) Regions. 16971.

Sarfo, F. K., & Cudjoe, B. (2016). Supervisors ' Knowledge and Use of Clinical Supervision to Promote Teacher Performance in basic schools. International Journal of Education and Research, 4(1), 87–100.

Susanti, Wardiah, D., & Lian, B. (2020). Effect of Academic Supervision of School Heads and School Culture on Quality Teaching Teachers. 67–77. https://doi.org/10.31219/osf.io/7zw3q

Suyatno, Pambudi, D. I., Mardati, A., Wantini, Nuraini, E., & Yoyo. (2019). The education values of Indonesian teachers: Origin, importance, and its impact on their teaching. International Journal of Instruction, 12(3), 633–650.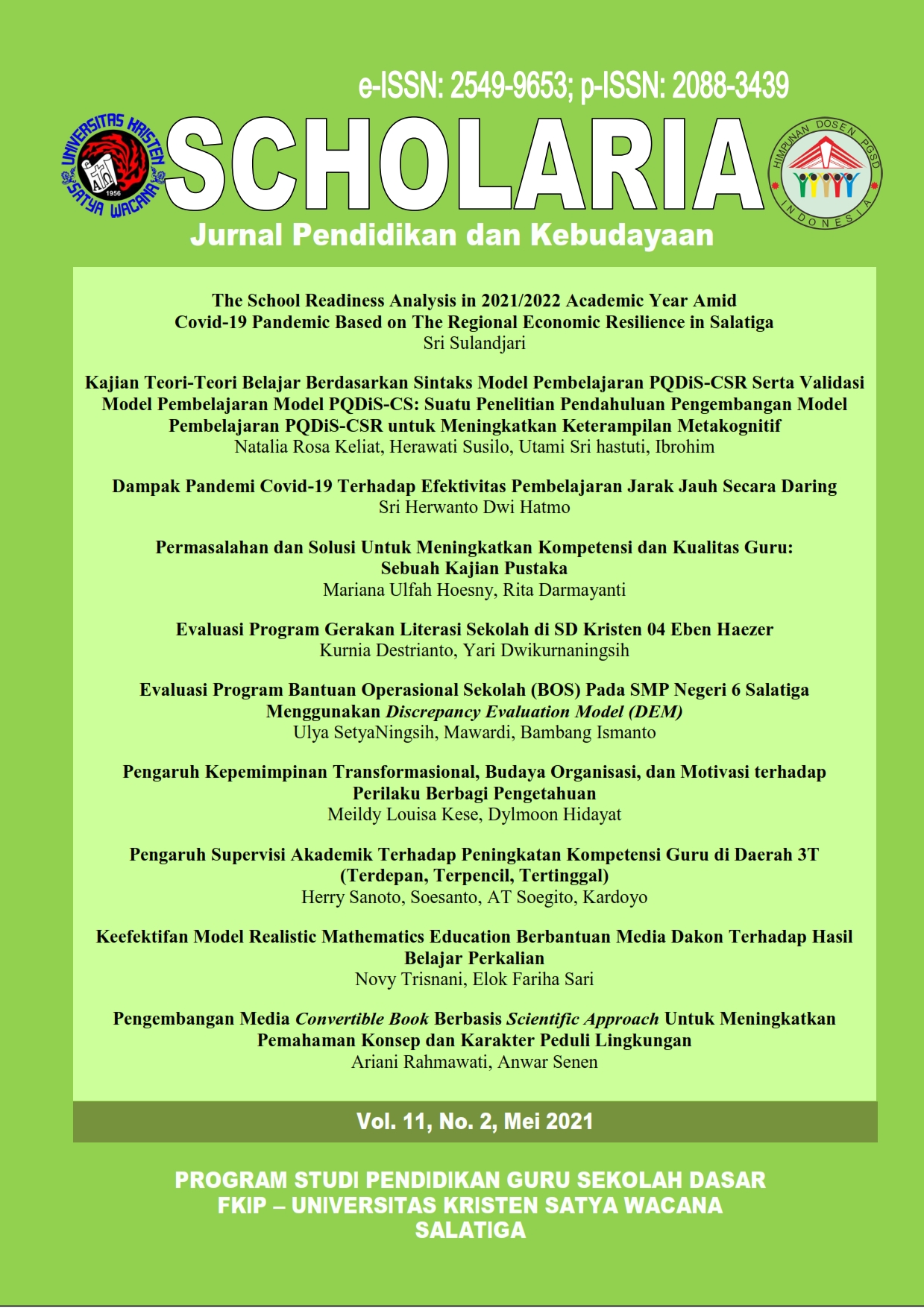 How to Cite
Sanoto, H., Soesanto, S., Soegito, A., & Kardoyo, K. (2021). Pengaruh Supervisi Akademik Terhadap Peningkatan Kompetensi Guru di Daerah 3T (Terdepan, Terpencil, Tertinggal). Scholaria: Jurnal Pendidikan Dan Kebudayaan, 11(2), 166-172. Retrieved from https://ejournal.uksw.edu/scholaria/article/view/4845
This work is licensed under a Creative Commons Attribution 4.0 International License.

Scholaria: Jurnal Pendidikan dan Kebudayaan is licensed under a Creative Commons Attribution 4.0 International License