The School Readiness Analysis in 2021/2022 Academic Year Amid Covid-19 Pandemic Based on The Regional Economic Resilience in Salatiga
Sri Sulandjari

Fakultas Ekonomika dan Bisnis, Universitas Kristen Satya Wacana, Salatiga
Keywords:
Economic Resilience, Education, Impact of Pandemic, Progressive Analysis of Acro-economic, SMEs
Abstract
The Covid-19 pandemic is devastating people's general income. It also affects the education sector. The government attempted to create an infrastructure as a solution to reduce the pandemic's impact. Economic resilience is a factor that shows the economic resources resilience in the midst of problems. Therefore, to understand the readiness level of people in Salatiga when welcoming the 'new normal' from WFH-online to offline activities, we use the economic resilience factors as indicators. Based on the research, it was found that Salatiga is gradually improving oneself to make the 'new normal' agenda succeed. This happens because Salatiga economic has decreased yet still afford for recovery.
Downloads
Download data is not yet available.
References
Alvey, J. E. (2003). Adam Smith's view of history: Consistent or paradoxical? In History of the Human Sciences (Vol. 16, Issue 2, pp. 1–25). https://doi.org/10.1177/ 0952695103016002001

Anugraheni, I., Guru, P., Dasar, S., Kristen, U., & Wacana, S. (2017). Penggunaan Portofolio Dalam Perkuliahan Penilaian Pembelajaran. In Jurnal Pendidikan Dasar Perkhasa: Jurnal Penelitian Pendidikan Dasar (Vol. 3, Issue 1). https://doi.org/10.31932/JPDP. V3I1.40

Bondarenko, S., Tkach, I., Drobotov, S., Mysyk, A., & Plutytska, K. (2021). National resilience as a determinant of national security of Ukraine. Journal of Optimization in Industrial Engineering, 14(1), 111–117. https://doi.org/10.22094/JOIE.2020.677837

Churiyah, M., Sholikhan, Filianti, & Ayu Sakdiyyah, D. (2020). International Journal of Multicultural and Multireligious Understanding Indonesia Education Readiness Conducting Distance Learning in Covid-19 Pandemic Situation. International Journal of Multicultural and Multireligious Understanding (IJMMU), 7(6), 491–507.

Djalante, R., Lassa, J., Setiamarga, D., Sudjatma, A., Indrawan, M., Haryanto, B., Mahfud, C., Sinapoy, M. S., Djalante, S., Rafliana, I., Gunawan, L. A., Surtiari, G. A. K., & Warsilah, H. (2020). Review and analysis of current responses to COVID-19 in Indonesia: Period of January to March 2020. Progress in Disaster Science, 6, 100091. https://doi.org/10.1016/j.pdisas.2020.100091

Drewery, W. (2011). Human Development. Waikato Journal of Education, 16(3), 9–18. https://doi.org/10.15663/wje.v16i3.31

Gonchar, N. (1994). Theory of economic equilibrium. Journal of Nonlinear Mathematical Physics, 1(4), 380–400. https://doi.org/10.2991/jnmp.1994.1.4.4

Humas Sekretariat Kabinet Republik Indonesia. (2020). Menjaga Momentum Pemulihan Ekonomi. Sekretariat Kabinet Republik Indonesia. https://setkab.go.id/menjaga-momentum-pemulihan-ekonomi/

Isabella, M. (2017). Strengthening The National Resilience of Indonesia Through Socialization of National Insight. Advances in Social Science, Education and Humanities Research (ASSEHR), 163(Icodag), 224–228. https://doi.org/10.2991/icodag-17.2017.42

Kemenhan RI. (2017). Nasionalisme Dan Bela Negara Dalam Perspektif Ketahanan Nasional – Bela Negara. Web-Official Kemenhan-RI. https://www.kemhan.go.id/ belanegara/opini/asd

Kementrian-Pendidikan-Kebudayaan-RI. (1989). Penjelasan Uu Republik Indonesia Nomor 2 Tahun 1989. Web. Https://Jdih.Kemenkeu.Go.Id/Fulltext/1989/ 2tahun~1989UU Penj.htm

Mardhani, D., Runturambi, A. J. S., & Hanita, M. (2020). Security and Defense in National Resilience Studies To Realize a National Security System. Jurnal Pertahanan & Bela Negara, 10(3), 267. https://doi.org/10.33172/jpbh.v10i3.1112

Martin, R., Sunley, P., Gardiner, B., & Tyler, P. (2016). How Regions React to Recessions: Resilience and the Role of Economic Structure. Regional Studies, 50(4), 561–585. https://doi.org/10.1080/00343404.2015.1136410

Noor, A. Y. M., & Hussain, E. M. H. (2014). Religion and belief towards human development. International Conference of Historians of Asia, January.

Oprea, F., Onofrei, M., Lupu, D., Vintila, G., & Paraschiv, G. (2020). The determinants of economic resilience. The case of Eastern European regions. Sustainability (Switzerland), 12(10), 1–11. https://doi.org/10.3390/su12104228

Paliova, I., McNown, R., & Nülle, G. (2019). Multiple Dimensions of Human Development Index and Public Social Spending for Sustainable Development. IMF Working Papers, 19(204). https://doi.org/10.5089/9781513511924.001

Pemda Salatiga. (2018). PERDA Kota Salatiga No. 18 Tahun 2018 tentang Penyelenggaraan Administrasi Kependudukan [JDIH BPK RI]. Https://Peraturan.Bpk.Go.Id/. https://peraturan.bpk.go.id/Home/Details/109829/perda-kota-salatiga-no-18-tahun-2018

Pemkot Salatiga. (2021). Badan Pusat Statistik. Https://Salatigakota.Bps.Go.Id/. https://salatigakota.bps.go.id/pressrelease/2020/12/29/153/kemiskinan-kota-salatiga-maret-2020.html

Rahatmawati, I., & Muryantini, S. (2020). United States of America – China Trade War: Challenge and Opportunity for Indonesian National Resilience. Advances in Social Science, Education and Humanities Research, 477(Iccd), 364–367. https://doi.org/10.2991/assehr.k.201017.081

Rumaksari, A. N. (2021). Pembelajaran Daring: Ancaman Perusahaan EdTech Pada Sekolah Ditengah Pandemi Covid-19. Scholaria: Jurnal Pendidikan Dan Kebudayaan, 11(1), 30–36. https://doi.org/10.24246/j.js.2021.v11.i1.p30-36

Sabiq, A. F. (2020). Persepsi Orang Tua Siswa tentang Kegiatan Belajar di Rumah sebagai Dampak Penyebaran Covid 19. Ilmu Pendidikan Pkn Dan Sosial Budaya, 4(1), 1–7.

Simmie, J., & Martin, R. (2010). The economic resilience of regions: Towards an evolutionary approach. Cambridge Journal of Regions, Economy and Society, 3(1), 27–43. https://doi.org/10.1093/cjres/rsp029

Taylor, T. (2018). Principle of Economics 2e. In OpenStax (pp. 301–318). OpenStack.

www.kompas.com. (2021, April 6). Salatiga dan Pandeglang Telah Jalankan Sekolah Tatap Muka Halaman all - Kompas.com. Www.Kompas.Com. https://www.kompas. com/edu/read/2021/04/06/141721371/salatiga-dan-pandeglang-telah-jalankan-sekolah-tatap-muka?page=all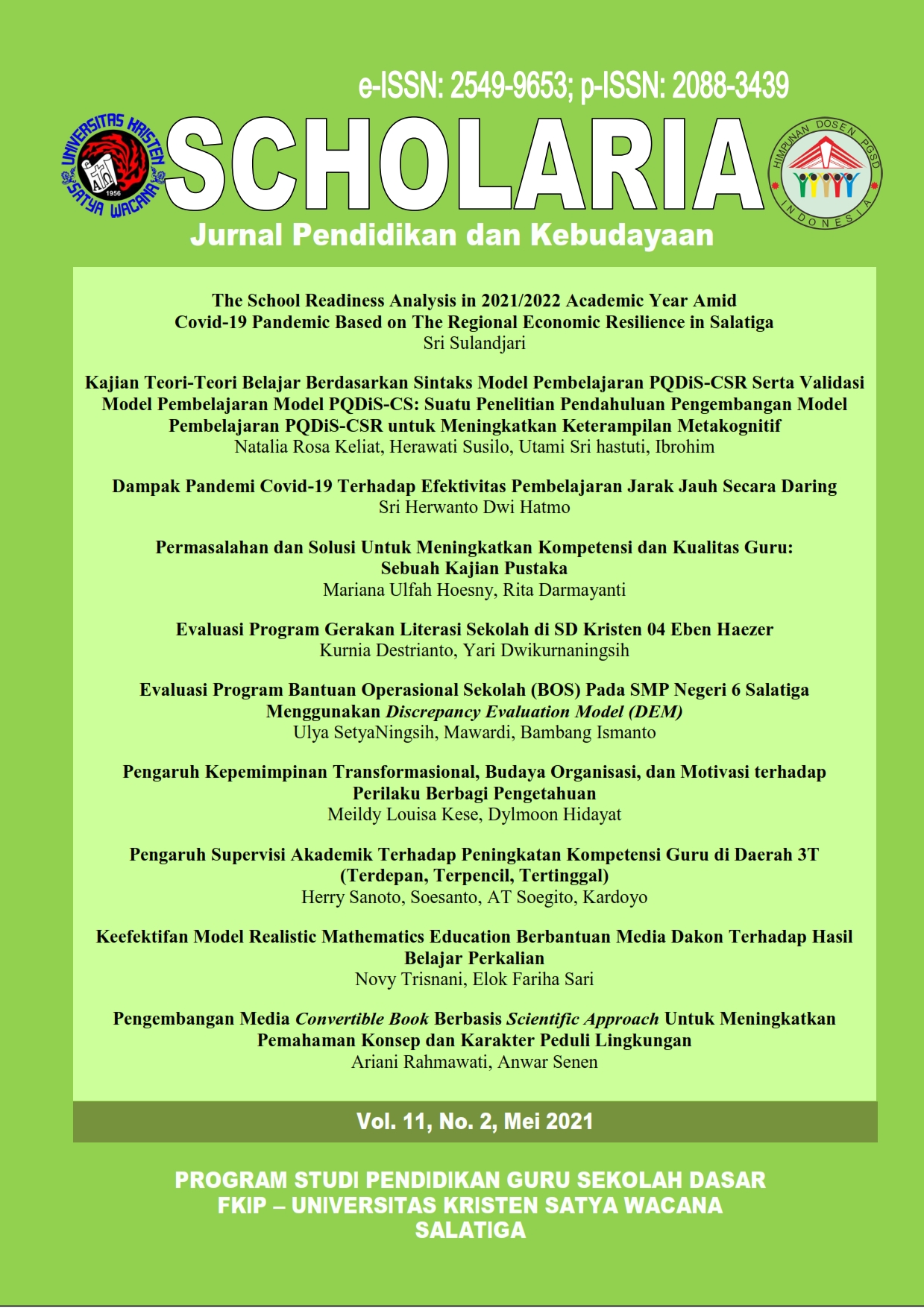 How to Cite
Sulandjari, S. (2021). The School Readiness Analysis in 2021/2022 Academic Year Amid Covid-19 Pandemic Based on The Regional Economic Resilience in Salatiga. Scholaria: Jurnal Pendidikan Dan Kebudayaan, 11(2), 91-102. Retrieved from https://ejournal.uksw.edu/scholaria/article/view/4735
This work is licensed under a Creative Commons Attribution 4.0 International License.

Scholaria: Jurnal Pendidikan dan Kebudayaan is licensed under a Creative Commons Attribution 4.0 International License