Dampak Pandemi Covid-19 Terhadap Efektivitas Pembelajaran Jarak Jauh Secara Daring
Keywords:
Corona Pandemic, Internet Connection, Online Distance Learning
Abstract
This research reviews the impact of the Covid-19 pandemic to the effectiveness of online distance learning. It seeks the degree of students' material understanding via online learning in each region, with the availability and limitations of different internet network connections. This condition is used as a reference that whether online learning method bring useful results compared to face-to-face methods. This situation will also be reflected in students' opinion when asked about the effectiveness and preference of the learning method. The samples were taken purposively for an electronic questionnaire survey through Google Form. The results indicated that: 1)the transition from face-to-face learning methods (81.8%) to online distance learning (PJJ) (18.2%) has an effect on understanding the absorption of material; 2) the occurrence of constraints caused by the condition of the infrastructure, as the main medium the quality is not guaranteed, namely internet connection (42.9%), resulting in less effective online learning activities.
Downloads
Download data is not yet available.
References
Alchamdani, F., Eka, Anugrah, R., Sari, N. P., & Freddrika Putri, A. A. (2020). The Impact of Covid 19 Pandemic on Online Learning Process in The College At Southeast Sulawesi. Jurnal Kesehatan Lingkungan, 12(1), 129–136. https://doi.org/10.20473/jkl.v12i1si.2020.129-136
Argaheni, N. B. (2020). Sistematik Review : Dampak Perkuliahan Daring Saat Pandemi Covid-19 Terhadap Mahasiswa Indonesia A Systematic Review : The Impact of Online Lectures during the COVID-19 Pandemic Against Indonesian Students. PLACENTUM Jurnal Ilmiah Kesehatan Dan Aplikasinya, 8(2).
Astuti, P., & Febrian, F. (2019). Blended Learning Syarah: Bagaimana Penerapan dan Persepsi Mahasiswa. Jurnal Gantang, 4(2), 111–119. https://doi.org/10.31629/jg.v4i2.1560
Cucinotta, D., & Vanelli, M. (2020). WHO declares COVID-19 a pandemic. Acta Biomedica, 91(1), 157–160. https://doi.org/10.23750/abm.v91i1.9397
Dwi, B., Amelia, A., Hasanah, U., & Putra, A. M. (2020). Analisis Keefektifan Pembelajaran Online di Masa Pandemi Covid-19. Jurnal Pendidikan Guru Sekolah Dasar, 2(1), 3.
Hapsari, T., & Fitria, A. S. (2020). Efektivitas Pembelajaran Daring Mata Kuliah Evaluasi Pengajaran Bahasa Dan Sastra Indonesia Masa Pandemi Covid-19. Jurnal Ilmiah SEMANTIKA, 2(01), 11–20. http://jurnal.umus.ac.id/index.php/semantika/article/view/259
He, W., Xu, G., & Kruck, S. E. (2014). Online is education for the 21st century. Journal of Information Systems Education, 25(2), 101–105.
Herliandry, L. D., Nurhasanah, Suban, M. E., & Heru, K. (2020). Pandemic learning during the Covid-19. Jurnal Teknologi Pendidikan, 22(1), 65–70. http://journal.unj.ac.id/unj/index.php/jtp
Hsu, L. Y., Chia, P. Y., & Lim, J. F. (2020). The Novel Coronavirus (SARS-CoV-2) Epidemic. Annals of the Academy of Medicine, Singapore, 49(1), 1–3.
Iskandar1*, Syarifah Masthura2, C. O. (2020). Penerapan Sistem Pembelajaran Daring Pada Mahasiswa Keperawatan Universitas Abulyatama. Jurnal Dedikasi Pendidikan, 8848(2), 323–332.
Ismawati, D., & Prasetyo, I. (2020). Efektivitas Pembelajaran Menggunakan Video Zoom Cloud Meeting pada Anak Usia Dini Era Pandemi Covid-19. Jurnal Obsesi : Jurnal Pendidikan Anak Usia Dini, 5(1), 665. https://doi.org/10.31004/obsesi.v5i1.671
Joshi, A., Vinay, M., & Bhaskar, P. (2020). Impact of coronavirus pandemic on the Indian education sector: perspectives of teachers on online teaching and assessments. Interactive Technology and Smart Education. https://doi.org/10.1108/ITSE-06-2020-0087
Khasanah, D. R. A. U., Pramudibyanto, H., & Widuroyekti, B. (2020). Pendidikan Dalam Masa Pandemi Covid-19. Jurnal Sinestesia, 10(1), 41–48. https://sinestesia.pustaka.my.id/journal/article/view/44
Latip, A. (2020). Komunikasi Pada Pembelajaran Jarak Jauh Di Masa Pandemi COVID-19. Edukasi Dan Teknologi, 1(2), 107–115. https://www.researchgate.net/profile/Abdul_Latip/publication/341868608_Peran_Literasi_Teknologi_Informasi_Dan_Komunikasi_Pada_Pembelajaran_Jarak_Jauh_Di_Masa_Pandemi_Covid-19/Links/5ed773c245851529452a71e9/Peran-Literasi-Teknologi-Informasi-Dan-Komunikasi
Mustakim. (2020). Efektivitas Pembelajaran Daring Menggunakan Media Online Selama Pandemi Covid-19 Pada Mata Pelajaran Matematika the Effectiveness of E-Learning Using Online Media During the Covid-19 Pandemic in Mathematics. Al Asma: Journal of Islamic Education, 2(1), 1–12.
Napitupulu, R. M. (2020). Dampak pandemi Covid-19 terhadap kepuasan pembelajaran jarak jauh. Jurnal Inovasi Tekonologi Pendidikan, 7(1), 23–33.
Nurcita, B., & Susantiningsih, T. (2020). Dampak Pembelajaran Jarak Jauh Dan Physical Distancing Pada Tingkat Kecemasan Mahasiswa Fakultas Kedokteran Universitas Pembangunan Nasional " Veteran " Jakarta Pendahuluan World Health Organization ( WHO ) menetapkan Corona virus desease 2019 atau Covid-. 3(1), 58–68.
Prawiyogi, A. G., Purwanugraha, A., Fakhry, G., & Firmansyah, M. (2020). Efektifitas Pembelajaran Jarak Jauh Terhadap Pembelajaran Siswa di SDIT Cendekia Purwakarta. Jurnal Pendidikan Dasar, 11(01), 94–101.
Rachmawati, Y., Ma'arif, M., Fadhillah, N., Inayah, N., Ummah, K., Siregar, M. N., Amalyaningsih, R., Aftannaila, F., & Auliyah, A. (2020). Studi Eksplorasi Pembelajaran Pendidikan IPA Saat Masa Pandemi COVID-19 di UIN Sunan Ampel Surabaya Yuanita. Indonesian Journal of Science Learning, 1(1), 32–36. http://jurnalftk.uinsby.ac.id/index.php/IJSL
Remuzzi, A., & Remuzzi, G. (2020). COVID-19 and Italy: what next? The Lancet, 395(10231), 1225–1228. https://doi.org/10.1016/S0140-6736(20)30627-9
Rosali, E. S., Pendidikan, J., & Universitas, G. (2020). Aktifitas Pembelajaran Daring Pada Masa Pandemi Covid-19 Di Jurusan Pendidikan Geografi Universitas Siliwangi Tasikmalaya. Geography Science Education Journal (GEOSEE, 1(1), 21–30.
Rumaksari, A. N. (2021). Pembelajaran Daring: Ancaman Perusahaan EdTech Pada Sekolah Ditengah Pandemi Covid-19. Scholaria: Jurnal Pendidikan Dan Kebudayaan, 11(1), 30–36. https://doi.org/10.24246/j.js.2021.v11.i1.p30-36
Senn, G. (2009). Comparison of Face-To-Face and Hybrid Delivery of a Course that Requires Technology Skills Development. Proceedings of the 2009 InSITE Conference, 7. https://doi.org/10.28945/3358
Setiawan, A. R., Puspaningrum, M., & Umam, K. (2019). Pembelajaran Fiqh Mu'Āmalāt Berorientasi Literasi Finansial. TARBAWY : Indonesian Journal of Islamic Education, 6(2), 187–192. https://doi.org/10.17509/t.v6i2.20887
Sudrajat, C. J., Agustin, M., Kurniawati, L., & Karsa, D. (2020). Strategi Kepala TK dalam Meningkatkan Mutu Pendidikan pada Masa Pandemi Covid 19. Jurnal Obsesi : Jurnal Pendidikan Anak Usia Dini, 5(1), 508. https://doi.org/10.31004/obsesi.v5i1.582
Syafrida, S. (2020). Bersama Melawan Virus Covid 19 di Indonesia. SALAM: Jurnal Sosial Dan Budaya Syar-I, 7(6). https://doi.org/10.15408/sjsbs.v7i6.15325
Wicaksono, A., & Teixeira Da Silva, J. A. (2020). Is COVID-19 impacting plant science, and is plant science impacting COVID-19? Notulae Scientia Biologicae, 12(3), 769–772. https://doi.org/10.15835/nsb12310778
Windhiyana, E. (2020). Dampak Covid-19 Terhadap Kegiatan Pembelajaran Online Di Perguruan Tinggi Kristen Di Indonesia. Perspektif Ilmu Pendidikan, 34(1), 1–8. https://doi.org/10.21009/pip.341.1
Yudiawan, A. (2020). Belajar Bersama COVID 19: Evaluasi Pembelajaran Daring Era Pandemi di Perguruan Tinggi Keagamaan Islam Negeri, Papua Barat. AL-FIKR: Jurnal Pendidikan Islam, 6(1), 10–16. https://doi.org/10.32489/alfikr.v6i1.64
Zhafira, N. H., Ertika, Y., & Chairiyaton. (2020). Persepsi Mahasiswa Terhadap Perkuliahan Daring Sebagai Sarana Pembelajaran Selama Masa Karantina Covid-19. Jurnal Bisnis Dan Kajian Strategi Manajemen, 4, 37–45.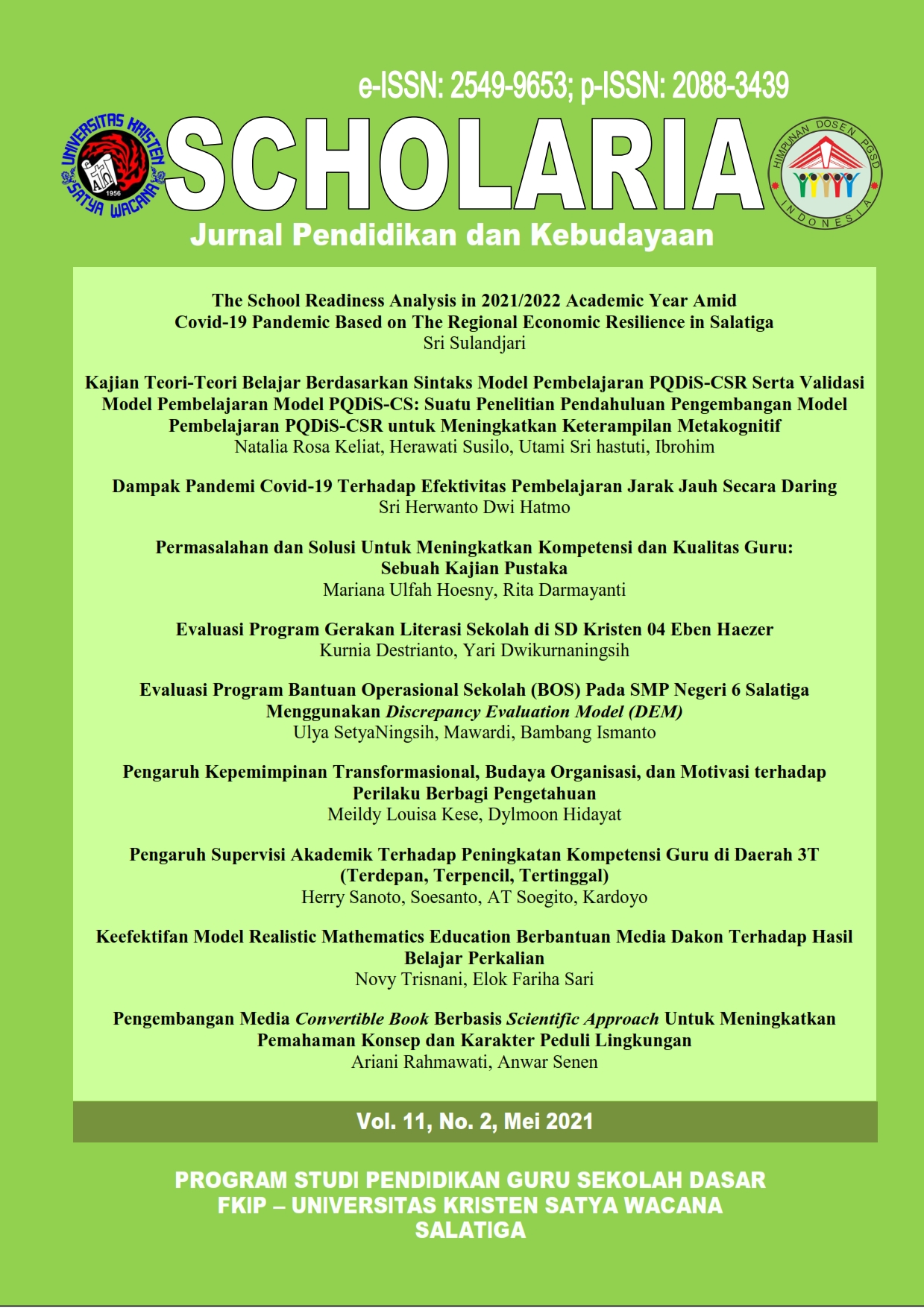 Downloads
How to Cite
Dwi Hatmo, S. H. (2021). Dampak Pandemi Covid-19 Terhadap Efektivitas Pembelajaran Jarak Jauh Secara Daring. Scholaria: Jurnal Pendidikan Dan Kebudayaan, 11(2), 115–122. Retrieved from https://ejournal.uksw.edu/scholaria/article/view/4222
License

Scholaria: Jurnal Pendidikan dan Kebudayaan is licensed under a Creative Commons Attribution 4.0 International License