TEORI INTERNASIONALISME DALAM SISTEM HUKUM NASIONAL
Keywords:
Internasionalisme, Konstitusi, Hukum Internasional
Abstract
Abstrak
Konstitusi suatu negara memegang peran penting dalam menjelaskan posisi hukum internasional dalam sistem hukum nasional. The South African Constitution adalah salah satu contoh konstitusi yang menjabarkan secara eksplisit mengenai kedudukan hukum internasional sehingga mempreskripsi pengadilan untuk menggunakan hukum internasional secara langsung dalam wilayah domestik. Masalah muncul bagi negara yang tidak memiliki ketentuan eksplisit dalam konstitusi, seperti Indonesia, namun praktiknya terdapat penggunaan hukum internasional oleh agen negaranya. Artikel ini menawarkan teori internasionalisme untuk memberi dasar legitimasi bagi negara yang ingin patuh terhadap hukum internasional di saat konstitusi tidak memiliki ketentuan eksplisit yang mengaturnya. Teori ini dibangun dengan fondasi 2 teori yakni teori transnational legal process yang menitikberatkan pada bagaimana negara memperlakukan hukum internasional, dan teori international constitution yang berfokus pada bagaimana perlakuan hukum internasional tersebut bersifat konstitusional. 
Abstract
A constitution of a nation holds an important role to define international law before municipal law. The South African Constitution is an example of constitutions that explain explicitly the position of international law and prescribe its courts to observe international law in domestic zone. A crucial problem has risen in States which have no explicit provisions in their constitutions, like Indonesia, but the State agent acts of using international law are often found. This article offers internationalism theory in order to give the States a legitimacy to be comply with international law although the constitution lacks the explicit provisions. The theory contains 2 basic theories which are transnational legal process theory that stresses on how states treat international law properly; and international constitution theory that focuses on how the treatment becomes constitutional.
Downloads
Download data is not yet available.
References
Agusman, Damos Dumoli, Treaties Under Indonesian Law: A Comparative Study (Remaja Rosdakarya 2014).

Dixon, Martin, Textbook on International Law (Blackstone Press Limited 1993).

Gautama, Sudargo, Indonesia dan Arbitrase Internasional (Alumni 1992).

Lauterpacht, Hersch, International Law: Collected Papers (Cambridge University Press 1970).

Agusman, Dumoli, 'Dasar Konstitusional Perjanjian Internasional Mengais Latar Belakang dan DinamikaPasal 11 UUD 1945' (2012) 4 Opinio Juris 1.

Butt, Simon, 'The Position of International Law Within The Indonesian Legal System' (2014) 28 Emory International Law Review 1.

Cleveland, Sarah H., 'Our International Constitution' (2006) 31 The Yale Journal of International Law 1.

Koh, Harold, '1998 Frankel Lecture: Bringing International Law Home' (1998) 35 Houston Law Review 623.

Koh, Harold, 'How Is International Human Rights Law Enforced?' (1999) 74 Indiana Journal Law 1397.

Koh, Harold, 'International Law as Part Of Our Law' (2004) 98 American Journal of International Law 43.

Koh, Harold, 'Why Do Nations Obey International Law?' (1997) 106 The Yale Law Journal 2599.

Tsai, Katherine, 'How To Create International Law: The Case of Internet Freedom in China' (2011) 21 Duke Journal of Comparative and International Law 401.
Internet

D'Amato, Anthony, 'The Coerciveness of International Law' (2010) 91 Faculty Working Papers
diakses 18 Juni 2015.

General Assembly, 'As Consideration of International Law Commission Report Concludes, Legal Committee Debates Constitutional Challenges Arising From Treaties' Provisional Application' (2014) diakses 18 Juni 2015.

Yimer, Bahakal dkk., 'Application of International Investment Agreement by Domestic Courts' (Trade Law Clinic, Geneva, Juni 2011).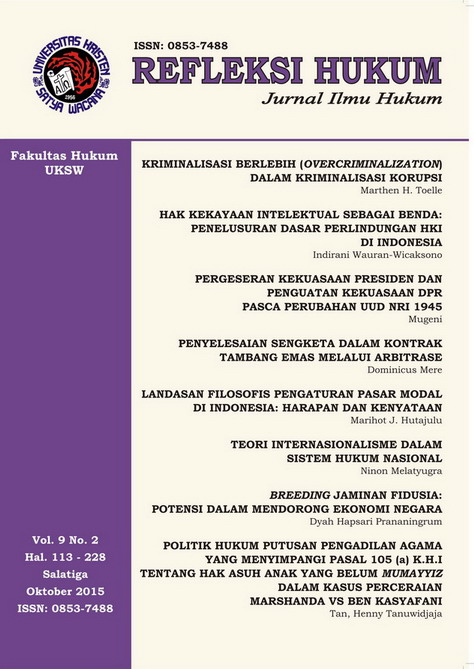 How to Cite
Melatyugra, N. (2015). TEORI INTERNASIONALISME DALAM SISTEM HUKUM NASIONAL. Refleksi Hukum: Jurnal Ilmu Hukum, 9(2), 199-208. https://doi.org/https://doi.org/10.24246/jrh.2015.v9.i2.p199-208

Refleksi Hukum: Jurnal Ilmu Hukum is licensed under a Creative Commons Attribution 4.0 International License.