HAK KEKAYAAN INTELEKTUAL SEBAGAI BENDA: PENELUSURAN DASAR PERLINDUNGAN HKI DI INDONESIA
Indirani Wauran-Wicaksono
Keywords:
Hak Kekayaan Intelektual, Benda, Hak Milik.Hak Kekayaan Intelektual, Hak Milik, hukum, hki
Abstract
Abstrak
Hak Kekayaan Intelektual memberikan kewenangan hukum kepada seseorang untuk
mendapat keuntungan dari karya intelektual yang diciptakan. Hal ini berimplikasi pihak
lain, yang tanpa persetujuan, tidak diperbolehkan untuk mengambil keuntungan dari
sebuah karya intelektual. Pengambilan keuntungan berarti mengambil sesuatu, di mana
sesuatu tersebut berada dalam hukum sipil yang dikenal dengan properti. Artikel ini
menyelidiki kembali perlindungan dasar hak kekayaan intelektual untuk memberikan
justifikasi bahwa hak kekayaan intelektual adalah properti yang memiliki sifat dasar
properti dan faktanya obyek properti memiliki hak milik.


Abstract
Intellectual Property Rights provides legal authority for a person to reap the rewards of
the intellectual work produced. This has a consequence that the other party without consent
must not take advantage of an intellectual work. Reap the rewards of means to take
something, which in civil law is known as the property. This article retraces the basic
protection of intellectual property rights to provide justification that intellectual property
rights are a property that has the nature of properties and in fact, is the object of property
that has proprietary rights.
Downloads
Download data is not yet available.
References
Bainbridge, David I, Intellectual Property (Financial Times Pitman Publishing 1999).

Colston, Catherine, Principles of Intellectual Property Law (Cavendish Publishing Limited 1999).

Ibrahim, Johny, Hukum Persaingan Usaha. Filosofi, teori, dan implikasi penerapannya di Indonesia (Bayumedia 2007).

Kartadjoemena, H.S., GATT, WTO, and Uruguay Round (UI Press 1997).

Keraf, Sony, Hukum Kodrat dan Teori Hak Milik (Kanisius 1997).

Marzuki, Peter Mahmud, Pengantar Ilmu Hukum (Kencana 2008).

Muhammad, Abdulkadir, Hukum Perdata Indonesia (Citra Aditya Bakti 1990).

Sardjono, Agus, Hak Kekayaan Intelektual dan Pengetahuan
Tradisional (Alumni 2006).

Subekti, Pokok-pokok Hukum Perdata (Intermasa 1984).

Haryanto, Totok Dwinur, Kultur Masyarakat dan Hak KekayaanIntelektual (2009) 8 Jurnal Wacana 25.

Long, Doris Estelle, The Impact of Foreign Investment on Indigenous Culture: An Intellectual Property Perspective' (1998) 21 North Caroline Journal of International Law & Commercial Regulation 229.

Ganslandt, Mattias, Intellectual Property Rights and Competition Policy (IFN Working Paper No. 726, Research Institute of Industrial Economics, Desember 2008)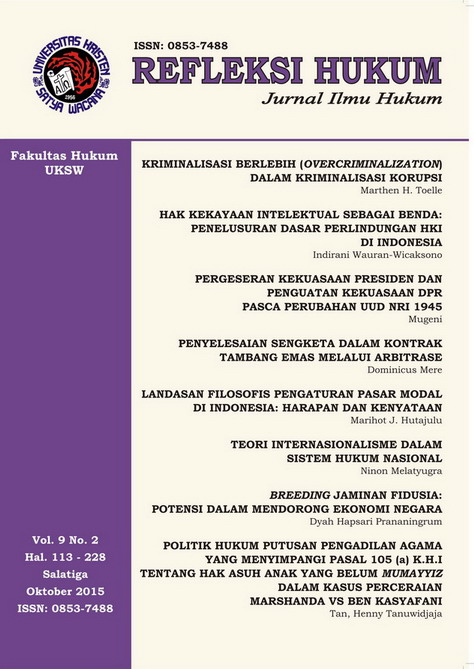 How to Cite
Wauran-Wicaksono, I. (2015). HAK KEKAYAAN INTELEKTUAL SEBAGAI BENDA: PENELUSURAN DASAR PERLINDUNGAN HKI DI INDONESIA. Refleksi Hukum: Jurnal Ilmu Hukum, 9(2), 133-142. https://doi.org/10.24246/jrh.2015.v9.i2.p133-142

Refleksi Hukum: Jurnal Ilmu Hukum is licensed under a Creative Commons Attribution 4.0 International License.