KRIMINALISASI BERLEBIH (OVERCRIMINALIZATION) DALAM KRIMINALISASI KORUPSI
Marthen H. Toelle

Kantor Advokad Marthen H. Toelle dan rekan
Keywords:
Kriminalisasi, Kontrak, Korupsi, hukum, pidana khusus
Abstract
Abstrak
Artikel ini berargumen bahwa kriminalisasi dalam Pasal 2 ayat (1) dan Pasal 3 UU Tipikor adalah praktik kriminalisasi berlebih. Praktik kriminalisasi berlebih pada hakikatnya adalah keputusan menetapkan suatu tindakan sebagai tindak pidana dalam undang-undang tanpa didukung oleh alasan yang memadai. Dalam kontrak dengan pemerintah, perlindungan terhadap keuangan negara sudah memadai sehingga tindakan merugikan keuangan negara tidak perlu dikriminalisasi atau dipidana berdasarkan Pasal 2 ayat (1) dan Pasal 3 UU Tipikor.


Abstract
This article argues that the criminalization stipulated in Articles 2(1) and 3 of the Indonesian Anti-Corruption Act is overcriminalization. Overcriminalization is, in essence, the decision to criminalize certain behaviour without being supported by adequate reasons. In government contracts, the protection over State budget has been properly established, therefore any State budget loss should not necessarily be criminalized according to Articles 2 (1) and 3 of the Indonesian Anti-Corruption Act.
Downloads
Download data is not yet available.
References
Amiruddin, Korupsi dalam Pengadaan Barang dan Jasa (Genta Publishing 2010).

Baker, Dennis J., The Right Not to be Criminalized: Demarcating Criminal Law's Authority (Ashgate 2011).

Duff, R.A., Answering for Crime: Responsibility and Liability in criminal Law (Hart Publishing 2007).

Hamzah, Andi, Pemberantasan Korupsi melalui Hukum Pidana Nasional dan Internasional (Rajawali Pers 2005).

Husak, Douglas, Overcriminalization: The Limits of the Criminal Law (Oxford University Press 2008).

Moeljatno, Asas-asas Hukum Pidana (Rineka Cipta 1993).

Packer, Herbert L., The Limits of the Criminal Sanction, (Stanford
University Press 1968).

Persak, Nina, Criminalising Harmful Conduct: The Harm Principle, Its Limits and Continental Counterparts (Springer 2007).

Ashworth, Andrew, 'Conceptions of Overcriminalization' (2008) 5 Ohio State Criminal Law Journal 407.

Tamanaha, Brian Z., 'A Concise Guide of the Rule of Law' dalam Gianluigi Palombella dan Neil Walker, eds., Relocating the Rule of Law (Hart Publishing) 2009.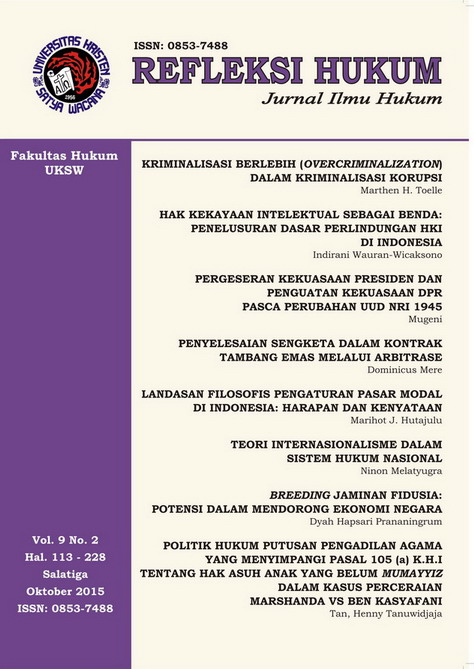 How to Cite
Toelle, M. (2015). KRIMINALISASI BERLEBIH (OVERCRIMINALIZATION) DALAM KRIMINALISASI KORUPSI. Refleksi Hukum: Jurnal Ilmu Hukum, 9(2), 113-132. https://doi.org/10.24246/jrh.2015.v9.i2.p113-132

Refleksi Hukum: Jurnal Ilmu Hukum is licensed under a Creative Commons Attribution 4.0 International License.