PROSES METAKOGNISI MAHASISWA DENGAN TIPE ADVERSITY QUOTIENT (AQ) QUITTERS DALAM MEMECAHKAN MASALAH MATEMATIKA
Rosana Setyaningsih

Pendidikan Matematika FKIP Universitas Kristen Satya Wacana
Keywords:
Keywords: Metacognition, Problem Solving, Adversity Quotient
Abstract
ABSTRACT
Metacognition is one of the important things in supporting one's success in solving mathematics problems because by using metacognition when solving problems, effective problem solving will be obtained. Metacognition is one's awareness of his own thought process. In dealing with a problem, it will be influenced by Adversity Quotient (AQ), namely intelligence in facing difficulties and changing barriers into opportunities for success. This research is a qualitative descriptive study. The subjects in this study were a Satya Wacana Christian University Mathematics Education student who had the AQ type of quitters. Quitters are a type of human who easily gives up in the face of difficulties. The results showed that the metacognition process experienced by the subject included metacognition awareness, evaluation, and regulation. In addition, metacognition also helps the subject to make thoughts and problem solving strategies more effective.
Downloads
Download data is not yet available.
References
Anggo, Mustamin. 2011. Pelibatan Metakognisi dalam Pemecahan Masalah. Jurnal Edumatica. Vol.1 No.1: 25-32.
Asmarani, Dewi & Sholihah, Ummu. 2016. Karakteristik Metakognisi Mahasiswa dalam Menyelesaikan Masalah Matematika Berdasarkan Langkah-Langkah Polya dan De Corte. Jurnal Pendidikan Matematika dan Ilmu Pengetahuan Alam. Vol.4 No.1: 59-72.
BSNP. 2006. Model Penelitian Kelas. Jakarta: Departemen Pendidikan Nasional.
Diana, Nanang. 2018. Mengembangkan Kemampuan Berpikir Kreatif dan Berpikir Logis Mahasiswa dengan Adversity Quotient dalam Pemecahan Masalah. Prosiding SNMPM II Prodi Pendidikan Matematika Unswagati. Cirebon. 101-112.
Flavell, J. 1976. Metacognitive Aspects of Problem Solving. In L. Resnick (Ed.). The Nature of Intelligence. Hillsdale, New Jersey: Earlbaum Associates.
Gartmann, S., & Freiberg, M. 1995. Metacognition and Mathematical Problem Solving: Helping Students to Ask The Right Questions. The Mathematics Educator. Vol.6 No.1: 9-13.
Irawan. I. P. E., Suharta. I. G. P., & Suparta. I. N. 2016. Faktor-Faktor yang Mempengaruhi Kemampuan Pemecahan Masalah Matematika: Pengetahuan Awal, Apresiasi Matematika, dan Kecerdasan Logis Matematis. Prosiding Seminar Nasional MIPA 2016 Prodi Pendidikan Matematika Universitas Pendidikan Ganesha. Singaraja.
Irianti, N. P., Subanji, & Chandra, T. D. 2016. Proses Berpikir Siswa Quitter dalam Menyelesaikan Masalah SPLDV Berdasarkan Langkah-langkah Polya. Jurnal Matematika dan Pendidikan Matematika. Vol.1 No.2: 133-142.
Kamid. 2013. Metakognisi Siswa dalam Menyelesaikan Soal Matematika (Studi Kasus pada Siswa SMP Berdasarkan Gender). Jurnal Edumatica. Vol.3 No.1: 64-72.
Kuzle, A. 2013. Patterns of Metacognitive Behavior During Mathematics Problem-Solving in a Dynamic Geometry Environment. International Electronic Journal of Mathematics Education. Vol.8 No.1: 20-40.
Magiera, M.T., & Zawojewski, J.S. 2011. Characterizations of Social-Based and Self-Based Contexts Associates With Students Awareness, Evaluation, and Regulatin of Their Thinking During Small-Group Mathematical Modeling. Journal for Research In Mathematics Educarion. Vol.42 No.5: 486-520.
Mcloughlin, C, and Hollingworth, R. 2003. Exploring a Hidden Dimension of Online Quality: Metacognitive Skill Development. 16th ODLAA Biennial Forum Conference Proceedings.
Mulyono, Abdurrahman. 2003. Pendidikan Bagi Anak Berkesulitan Belajar. Jakarta: Rineka Cipta.
NCTM. 2000. Principles and Standards for School Mathematics. United States of America: The National Council of Teachers of Mathematics.
Polya, G. 1973. How to Solve It (2nd ed). New Jersey: Princeton University Press.
Purnomo, Dwi. 2015. Karakteristik Proses Metakognisi Mahasiswa dalam Menyelesaikan Masalah Kalkulus. Jurnal Filsafat, Sains, Teknologi, dan Sosial Budaya. Vol.21 No.2: 81-93.
Setyadi, Danang. 2018. Proses Metakognisi Mahasiswa dalan Memecahkan Masalah Matematika (Studi Kasus pada Mahasiswa Pendidikan Matematika UKSW). Kreano. Vol.9 No.1: 93-99.
Stoltz, P.G. 2000. Adversity Quotient: Mengubah Hambatan Menjadi Peluang. Jakarta: PT Grasindo.
Subanji. 2011. Matematika Sekolah dan Pembelajarannya. J-TEQIP. Vol.2 No.1: 1-12.
Yanti, A. P., & Syazali, Muhamad. 2016. Analisis Proses Berpikir Siswa dalam Memecahkan Masalah Matematika Berdasarkan Langkah-Langkah Bransford dan Stein Dirinjau dari Adversity Quotient. Al-Jabar: Jurnal Pendidikan Matematika. Vol.7 No.1: 53-74.
Wilson, J. 2001. Assessing Metacognition. Unpublished Doctoral Thesis, The University of Melbourne.
Wilson, J., & Clarke, D. 2004. Towards the Modelling of Mathematical Metacognition dalam Mathematics Education Research Journal. Vol.16 No.2: 25-48.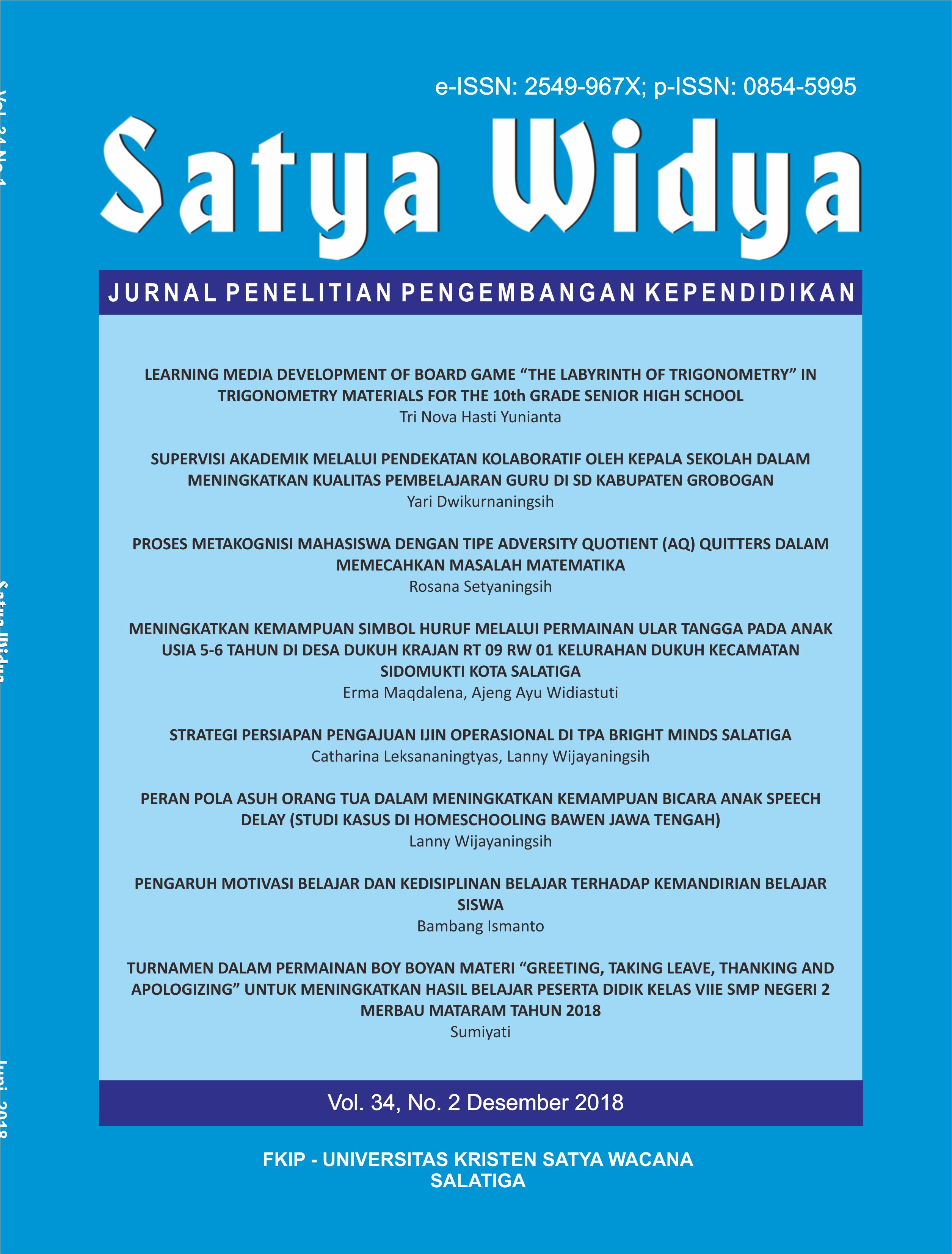 How to Cite
Setyaningsih, R. (2019). PROSES METAKOGNISI MAHASISWA DENGAN TIPE ADVERSITY QUOTIENT (AQ) QUITTERS DALAM MEMECAHKAN MASALAH MATEMATIKA. Satya Widya, 34(2), 112-124. https://doi.org/https://doi.org/10.24246/j.sw.2018.v34.i2.p112-124
Satya Widya is licensed under a 
Creative Commons Attribution 4.0 International License