Primary School Teachers' Perception About Curriculum 2013 Assessment System
Ika Maryani

Sri Tutur Martaningsih

PGSD FKIP Universitas Ahmad Dahlan
Abstract
The research is intended to find out: 1)the level of primary school teacher understanding of Curriculum 2013, 2). The level of teacher understanding on the authentic assessment, 3)The difficulties faced by the teacher when doing authentic assessment, and 4)The effort of the teacher to solve those difficulties. In collecting the data, the researcher used questionnaires and interviews to the primary school teachers in Yogyakarta, then analyzed the data using statistic descriptive analysis technique. The results of this research showed that: a) most of the teachers didn't understand the Curriculum 2013, yet they were not given any training before; b) teachers' understanding in authentic assessment system were low; c) the teacher were lack of the ability to define the  competence, indicators, learning objectives, and also arranging of assessment instrument and final report, d) the teacher effort to solve those difficulties were by joining the training peer discussion, and mentoring by Education Department as well as to the higher education institution.
Downloads
Download data is not yet available.
References
Brookhart, S. M., & Nitko, A. J. 2008. Assessment and grading in classrooms. Prentice Hall.

Dimartino, J., Castaneda, A., Brownstein, M., & Miles, S. 2007. Principal's Research Review. (Online).(www.principals.org pada 14 November 2014).

Endra, I. M., Merta, D., Suarjana, I. M., Putu, L., & Mahadewi, P. (2015). ANALISIS PENILAIAN AUTENTIK MENURUT PEMBELAJARAN KURIKULUM 2013 PADA KELAS IV SD NO . 4 BANYUASRI Universitas Pendidikan Ganesha. E-Journal PGSD Universitas Pendidikan Ganesha, (4).

Gulikers, J.T.M., bastiaens, Th. J., & Kirshner,P,A. 2006. Authentic assessment, studentand teacher perceptions: the practical value of the five dimensional-framework. Journal of Vocational Education and Training, Vol. 58, 337-357

Hardini, N. 2015. Persepsi Guru Terhadap Pembelajaran Tematik Pada Implementasi Ktsp Sd Se- Kecamatan Bayan Kabupaten Purworejo Ditinjau Dari Aspek Kognitif. Yogyakarta. Retrieved From Http://Repository.Upy.Ac.Id/292/1/Jurnal Nency Hardini_11144600138.Pdf

James Jerome Gibson. 1986. The Ecological Approach to Visual Perception. (Boston: Houghton Mifflin.

John R. Schermerhorn, Richard Osborn, James G. Hunt, Richard N. Osborn. 2005. Organizational Behavior. Nineth edition.John Wiley & Sons, Inc.

Juli, P., Eka, A., Gading, I. K., & Kusmariyatni, N. 2015. Penerapan Penilaian Otentik Untuk Meningkatkan Hasil Belajar Ipa Kelas IV SD Negeri 2 Pupuan.

Kemdikbud RI. 2013. Panduan Teknis Penilaian di Sekolah Dasar. Jakarta: Direktorat jenderal Pendidikan Dasar RI.
---------------------.Perubahan Pola Pikir.(Online). (http://kemdikbud.go.id/kemdikbud/dokumen/Paparan/Penyesuaian%20Pola%20Pikir%20dan%20Pembelajaran.pdf pada tanggal 12 Oktober 2014).

Lund, J. (1997). Authentic assessment: Its development and applications. Journal of Physical Education, Recreation, and Dance, Vol. 68 (7), 25–28.

Mansur, H. 2013. Implementasi Penilaian Autentik Kurikulum 2013 Di Sekolah Menengah Atas (Sma). Sulawesi Selatan. Retrieved from http://www.lpmpsulsel.net/v2/attachments/358_Implementasi Penilaian Autentik dlm K-13 di SMA.pdf

Miles, M. B., & Huberman, M. A. 2007. Analisis Data Kualitatif, Buku Sumber tentaang Metode-metode baru. Jakarta: Universitas Indonesia Press.

Mintah, J. K. 2003. Authentic Assessment in Physical Education : Prevalence of Use and Perceived Impact on Student's Self-Concept, Motivation, and Skill Achievement, 7(3), 161–174.

Mukhibat. 2014. Spiritualisasi dan Konfigurasi Pendidikan Karakter Berparadigma Kebangsaan dalam Kurikulum 2013. Jurnal Al-Ulum. Vol 14 No. 1, Juni 2014 Hal 23-42.

Natalina, M., & Vivi, L. 2013. Persepsi Guru Biologi Menghadapi Kurikulum 2013 Pada Tingkat Satuan Sekolah Menengah Negeri di Kota Pekanbaru. Jurnal Biogenesis, 10(2), 42–47.

Pemerintah Republik Indonesia. 2013. Peraturan Pemerintah Republik Indonesia Nomor 32 Tahun 2013 tentang Perubahan Atas Peraturan Pemerintah Nomor 19 tahun 2005 tentang Standar Nasional Pendidikan. Jakarta.

-------------------------------------------. Permendikbud RI Nomor 54 Tahun 2013 tentang Standar Kompetensi Lulusan Pendidikan Dasar dan Menengah. Jakarta.

-------------------------------------------. Permendikbud RI Nomor 65 Tahun 2013 tentang Standar Proses Pendidikan Dasar dan Menengah. Jakarta.

-------------------------------------------. Permendikbud RI Nomor 66 Tahun 2013 tentang Standar Penilaian Pendidikan. Jakarta.

-------------------------------------------. Permendikbud RI Nomor 67 Tahun 2013 tentang Kerangka Dasar dan Struktur Kurikulum SD/MI. Jakarta.

-------------------------------------------. Permendikbud RI Nomor 68 Tahun 2013 tentang Kerangka Dasar dan Struktur Kurikulum SMP/ Madrasah Tsanawiyah. Jakarta.

-------------------------------------------. Permendikbud RI Nomor 69 Tahun 2013 tentang Kerangka Dasar dan Struktur Kurikulum SMA/ MA. Jakarta.

-------------------------------------------. Permendikbud RI Nomor 67 Tahun 2013 tentang Kerangka Dasar dan Struktur Kurikulum SMK. Jakarta.

-------------------------------------------. Permendikbud RI Nomor 81A Tahun 2013 tentang Implementasi Kurikulum. Jakarta.

Raditya, T. M. A., Tarno, & Wuryandari, T. 2013. Penentuan Tren Arah Pergerakan Harga Saham Dengan Menggunakan Moving Average Convergence Divergence (Studi Kasus Harga Saham pada 6 Anggota LQ 45). Jurnal Gaussian, 2(3), 249–258.

Sistem Elektronik Pemantauan Implementasi Kurikulum 2013. 2013. Sekolah Sasaran. (Online). (http://kurikulum.kemdikbud.go.id/public/school diakses 25 Januari 2014)

Suharman. 2005. Psikologi Kognitif. Surabaya: Srikandi.

Sujarwanta, A. 2012. Mengkondisikan Pembelajaran IPA dengan Pendekatan Saintifik.Jurnal Nuansa Kependidikan.Vol. 16 No. 1, Nopember 2012.p.75-83.

Sunaryo.2004. Psikologi untuk Keperawatan. Jakarta: EGC.

Sugihartono. 2007. Psikologi Pendidikan. Yogyakarta: UNY Press.

Sujarwanta, A. 2012. Mengkondisikan pembelajaran ipa dengan pendekatan saintifik, 16, 75–83.

Swearingen, R. 2006. A Primer: Diagnostik, Formative & Summative Assesment. (Online). (http://www.mmrwsjr.com/assesment.html diakses pada 13 November 2014).

Taufina. 2009. Authentic Assessment dalam Pembelajaran Bahasa Indonesia di Kelas Rendah. PEDAGOGI (Jurnal Ilmiah Pendidikan). Vol. IX No. 1 p. 113-120.

Toha, M. 2003. Perilaku Organisasi Konsep Dasar dan Aplikasinya. Jakarta: Grafindo Persada.

Undang-Undang Republik Indonesia No. 14 Tahun 2005 tentang Guru dan Dosen. Bandung:Fokusmedia.

Widoyoko, S. 2013. Optimalisasi Peran Guru dalam Evaluasi Program Pembelajaran. Jurnal Pendidikan. Vol 22 No. 2. Juli 2013. p. 177-186.
William, T. H. E., Foundation, F. H., & Twersky, F. 2012. Evaluation Principles And Practices, (December).

Witherington, C. 2003. Psikologi Pendidikan Terjemahan M. Ngallim Purwanto. Jakarta: Remaja Rindu Jaya.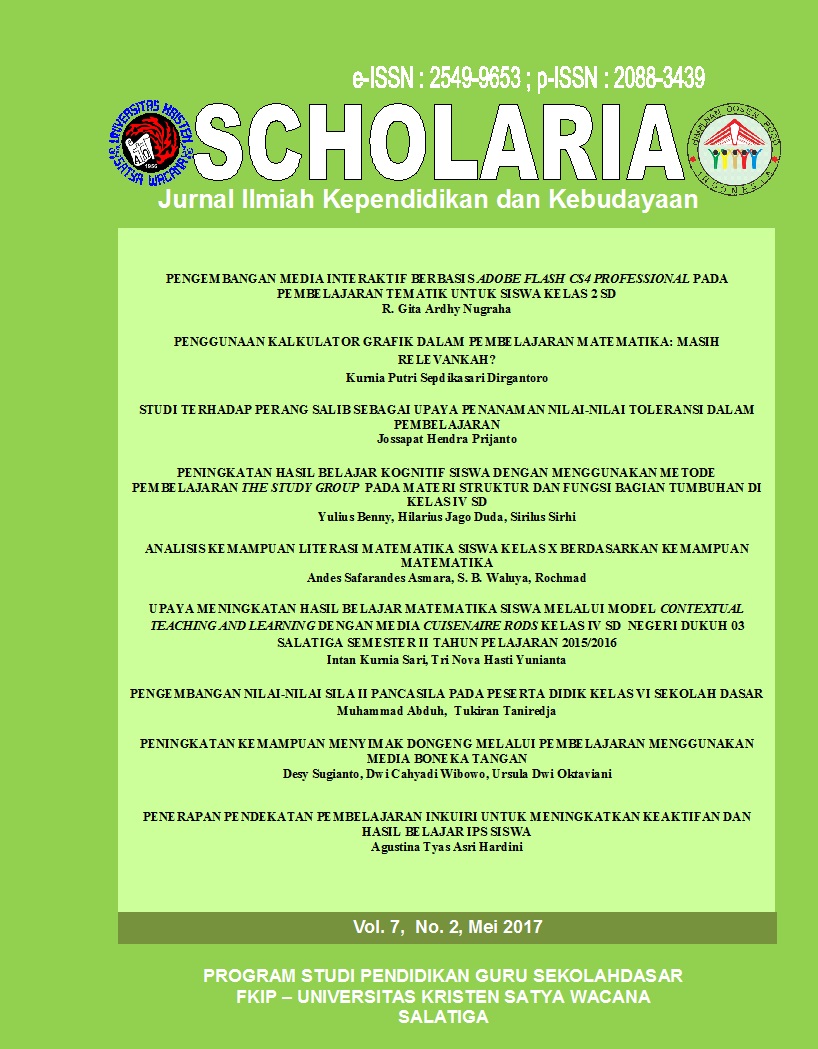 How to Cite
Maryani, I., & Martaningsih, S. (2017). Primary School Teachers' Perception About Curriculum 2013 Assessment System. Scholaria: Jurnal Pendidikan Dan Kebudayaan, 7(2), 153-164. https://doi.org/10.24246/j.scholaria.2017.v7.i2.p153-164

Scholaria: Jurnal Pendidikan dan Kebudayaan is licensed under a Creative Commons Attribution 4.0 International License