Pendidikan Seni Budaya dan Prakarya (SBdP) Sebagai Strategi Intervensi Umum bagi Anak Berkebutuhan Khusus
Keywords:
Art Education, Intervention Strategies, Children with Special Needs
Abstract
Art education can shape an individual's mental character, socio cultural personality, creativity and intellectual. Cultural art education is not only as a means of developing the knowledge and skills but as a general intervention strategies for children with special needs that based on socio-cultural. cultural arts and craft education has a uniqueness, significance and usefulness through activities to create, to appreciate and to express, so that children have role in the development of cognitive, affective and psychomotor than as aspects of catharsis in channeling the emotions as well as to stimulate active participation and improve the independence and directions on special needs childreen. The purpose of the use of intervention strategies was to help teachers knowing that the characteristic was associated with the competence of the child. This study was a qualitative research conducted in SD Negeri 1 Tanjung Purwokerto as one Inclussive School. Subject of research was principal, classroom teachers, assistant teachers, students and parents. The result of the research was intervention strategy can improve the ability of children. This was due to the orientation of making art more oriented to the modification process, the content of a work and the product. 
Downloads
Download data is not yet available.
References
Heward. 2003. Exceptional Children an Introduction to Special Education. New Jersey: Merill, Pretince Hall.

Holmberg,dkk. 2014. Inclusive And Individually Adapted Education In Norway Results From A Survey Study In Two Municipalities Focusing The Roles Of Headteachers, Teachers And Curriculum Planning. International Journal Of Special Education, 29 (1): 47 – 60.

Kuswarsantyo. 2009. Materi Dasar Apresiasi Seni. Yogyakarta : UNY

Liang, Gie. 1976. Garis Besar Estetika. Yogyakarta: Karya

Mikke, S. 2011. Diksi Rupa. Yogyakarta: DictiArt Lab

Peraturan Menteri Pendidikan dan Kebudayaan Republik Indonesia Nomor 27tahun 2014 tentang Kurikulum 2013 Sekolah Dasar/ Madrasah Ibtidaiyah.

Peraturan Pemerintah Republik Indonesia Nomor 19 tahun 2005 tentang Standar Nasional Pendidikan.

Retnowati, Tri Hartiti, dkk. 2010. Pembelajaran Seni Rupa. Yogyakarta: Badan Penerbit Universitas Negeri Yogyakarta.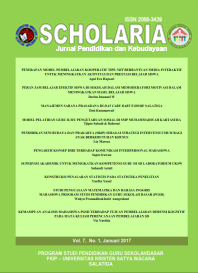 How to Cite
Mareza, L. (2017). Pendidikan Seni Budaya dan Prakarya (SBdP) Sebagai Strategi Intervensi Umum bagi Anak Berkebutuhan Khusus. Scholaria: Jurnal Pendidikan Dan Kebudayaan, 7(1), 35-38. https://doi.org/https://doi.org/10.24246/j.scholaria.2017.v7.i1.p35-38

Scholaria: Jurnal Pendidikan dan Kebudayaan is licensed under a Creative Commons Attribution 4.0 International License