Model Pelatihan Guru Ilmu Pengetahuan Sosial di SMP Muhammadiyah Kartasura
Tjipto Subadi

Dahroni Dahroni
Keywords:
Modeling, Coaching, Validation, Theory, Practice
Abstract
The study aimed to review and describe: 1) Coaching model of social sciences teacher in SMP Muhammadiyah Kartasura. 2) Test the validation of coaching model on social sciences teacher. This study used a qualitative approach of phenomenology. This study was conducted in SMP Muhammadiyah Kartasura, Sukoharjo district. The research design was classroom action research. The subject in this research were students, teachers, the principal. Data collection technique used observation, testing and interview. The interview process using theory of first and second order understanding. Data were analyzed using an interactive model included data reduction, data display, and conclusion. This study concluded that 1) Coaching Model of social sciences teacher in SMP Muhammadiyah Kartasura used modification lesson study approach. 2) Validation of the coaching model using two kinds of validation namely theory of validation and practice of validation.
Downloads
Download data is not yet available.
References
Dikti. 2013. Pedoman Penyaluran Hibah LS Batch VI Dikti. Jakarta. Dikti

Inagaki, T., & Saito, M. 2012. Jugyo Kenkyu Nyumon (Introduction to Lesson Study). Tokyo: Iwanami.

Lewis, Catherine C. 2002. Lesson study: A Handbook of Teacher-Led Instructional Change. Philadelphia, PA: Research for Better Schools, Inc.

Miles, B.M., Michael, H. 1992. Qualitative Data Analisys.Jakarta: UI Press

Saito. E. 2006. Development of school based in-service teacher training under the Indonesian Mathematics and Science Teacher Education Project. Improving Schools. Vol.9 (1): 47-59

Subadi T., Sutarni, Ritas P., Kh. (2013). A Lesson Study as a Development Model of Professional Teachers. (Macrothink Institute Journal International of Educatian. ISSN 1948-5476. Vol. 5, No. 22013). United States. info@macrothink.org. Website: www.macrothink.org.

Subadi T. 2009. Pengembangan Model Untuk Meningkatkan Kualitas Guru Melalui Pelatihan Lesson Study di Sekolah Dasar Kota Surakarta. Jurnal Sekolah Dasar Kajian Teori dan Praktik Pendidikan. Tahun 18. Nomor 2 November 2009. ISSN 0854-8285. Malang: UN Malang.

Subadi T., Samino . 2010. Pengembangan Model Peningkatan Kualitas Guru Melalui Pelatihan Lesson Study Bagi Guru SD Se-Karesidenan Surakarta Tahun II (Laporan Penelitian di Publikasikan di Perpustakaan Pusat UMS).

-------- . (2011). Pengembangan Model Peningkatan Kualitas Guru Melalui Pelatihan Lesson Study Bagi Guru SD Se-Karesidenan Surakarta Tahun III (Laporan Penelitian di Publikasikan di Perpustakaan Pusat UMS).

Model Pelatihan Guru Ilmu Pengetahuan Sosial di SMP Muhammadiyah Kartasura (Tjipto Subadi, Dahroni)

Subadi.T., Sumardi, Sutarni, Ritas P., Kh. (2014). Medel Pembinaan Pendidik Profesional (Suatu Penelitian dengan Pendekatan Lesson Study pada Guru-Guru Sekolah Muhammadiyah Sukoharjo Tahun 3 (Laporan Penelitian Dipublikasikan di Perpustakaan Pusat UMS).

Stephen L. Thompson, 2007, Science Activities, Washington: Winter 2007. Vol. 43. Iss. 4, pg.27, 7pgs.

Stewart, R, Brederfur, J. 2005. Fusing Lesson Study and Aithetic Achievent. Bloomington: A. Model for Teacher Collabooration. ww.proquest.umi.com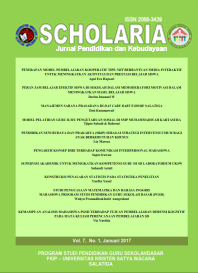 How to Cite
Subadi, T., & Dahroni, D. (2017). Model Pelatihan Guru Ilmu Pengetahuan Sosial di SMP Muhammadiyah Kartasura. Scholaria: Jurnal Pendidikan Dan Kebudayaan, 7(1), 26-34. https://doi.org/https://doi.org/10.24246/j.scholaria.2017.v7.i1.p26-34

Scholaria: Jurnal Pendidikan dan Kebudayaan is licensed under a Creative Commons Attribution 4.0 International License