Peran Jam Belajar Efektif Siswa di Sekolah Dalam Memoderatori Motivasi dalam Meningkatkan Hasil Belajar Siswa
Keywords:
Motivation, Effective Hours, Student Learning Achievement
Abstract
Motivation is the mean or a process that can be used to affect someone in a positive way so that it can motivate a person to achieve learning outcomes. Learning hours is the time needed to do learning activities well in school. In this study, researcher was interested to know the effect of motivation on learning outcomes moderated by students' effective hours in the school. Without motivation, the learning process will be difficult to be succesfully achieved. This quantitative research was conducted as a case study in high school science students. The study aimed to show an effective model for achieving better student learning outcomes. There were 32 high school science students who became sampled in this study. The data were collected through questionnaire and students' test results. The result was processed and looking for the average by using SPSS.  From the SPSS analysis, it was found that the learning motivation was valid and reliable with the value 0.775 and 0.795. Then, it is concludede that motivation model using students' effective hours as a moderator can improve students' learning outcomes in schools. 
Downloads
Download data is not yet available.
References
Arikunto, Suharsimi. 2009. Dasar-Dasar Evaluasi Pendidikan (edisi revisi). Jakarta: PT Bumi Aksara

Budiyono. 2009. Statistik Untuk Penelitian edisi ke-2. Surakarta: Sebelas Maret University Press.

Hamdani. 2011. Strategi Belajar Mengajar. Bandung: CV. Pustaka Setia

Pekik, Wicaksono (2016) Pengaruh Fasilitas Belajar, Motivasi Belajar Dan Minat Belajar Terhadap Prestasi Belajar Siswa Kelas X Smk Muhammadiyah Prambanan Tahun Ajaran 2011/2012. S1 Thesis, U N Y.

Rokhimah, Siti (2013). Pengaruh Perhatian Orang Tua Dan Motivasi Belajar Terhadap Prestasi Belajar Akuntansi Siswa Kelas Xi Akuntansi Smk Ypkk 2 Sleman Tahun Ajaran 2012/2013. S1 Thesis, Fakultas Ekonomi UNY.

Tirtarahardja & Sulo. 2005. Pengantar Pendidikan. Jakarta: Rineka Cipta

Trihendradi, C. 2013.Langkah Mudah Menguasai SPSS 21. Yogyakarta: Andi Yogyakarta

Usman, Husaini. 2013. Manajemen (teori, praktik, dan Riset Pendidikan).Jakarta: Bumi Aksara.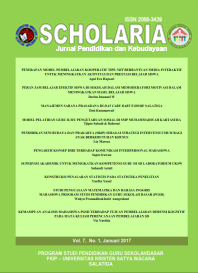 How to Cite
W, D. (2017). Peran Jam Belajar Efektif Siswa di Sekolah Dalam Memoderatori Motivasi dalam Meningkatkan Hasil Belajar Siswa. Scholaria: Jurnal Pendidikan Dan Kebudayaan, 7(1), 10-16. https://doi.org/https://doi.org/10.24246/j.scholaria.2017.v7.i1.p10-16

Scholaria: Jurnal Pendidikan dan Kebudayaan is licensed under a Creative Commons Attribution 4.0 International License