Penerapan Model Pembelajaran Kooperatif Tipe Numbered Heads Together Berbantuan Media Interaktif untuk Meningkatkan Aktivitas dan Prestasi Belajar Siswa
Keywords:
NHT, Instructional Media, Learning Activity and Achievement
Abstract
This study aimed to improve history learning achievement through the implementation of cooperative learning model NHT assisted interactive media. The method used in this research was a classroom action research by conducting two meetings in two cycles. The instrument used was questionnaire for the interview and questionnaire for observation of learning activities and achievement test. Data analysis techniques used was comparative descriptive method by comparing pre cycle and between cycles. The results of the study in the first cycle was the activity of 12 students or 40% in the high category, activity 9 students or 30% was in medium category and the activity of another 9 students or 30%  was in lower categories. It was found that 24 students or 70% were mastery learning with average grade 62.25. In the second cycle, the activity of 24 students or 80% was in higher category, activity of 6 students or 20% was in medium category, and 0 student or 0% in lower categories. The average of learning achievement reached 85 with 30 students mastery learning or 100%. Based on the analysis and discussion of the research, it is concluded that the implementation of cooperative learning model NHT aided interactive media can improve student achievement.
Downloads
Download data is not yet available.
References
Abdul Munib, dkk. 2009. Pengantar Ilmu Pendidikan. Semarang: UNNES Press.

Agus Suprijono. 2011. Model-Model Pembelajaran. Jakarta: Gramedia Pustaka Jaya.

Ahmad Rohani 1997. Media Intruksional Edukatif. Jakarta: Rineka Cipta

Ahmad Sabri. 2005. Strategi Belajar Mengajar dan Micro Teaching. Jakarta: Quantum Teaching

Aman. 2011. Model Evaluasi Pembelajaran Sejarah. Yogyakarta: Ombak

Arif S. Sadiman, dkk. 2006. Media Pendidikan. Jakarta: Rajawali Pers

Arikunto, Suharsimi. 2010. Penelitian Tindakan Kelas Untuk Guru, Kepala Sekolah dan Pengawas. Yogyakarta: Aditya Media.

Djamarah, Syaiful Bahri. 2002. Strategi Belajar Mengajar. Jakarta: Rineka Cipta.

Isjoni. 2010. Pembelajaran Kooperatif. Yogyakarta: Pustaka Pelajar.

Kuntowijoyo 2005. Pengantar Ilmu Sejarah. Yogyakarta: Bentang Pustaka

Lukman Ali. 1995. Kamus Besar Bahasa Indonesia. Jakarata: Balai Pustaka

Muhibin Syah. 2004. Psikologi Pendidikan. Bandung: Rosda Karya

Muslimin, Ibrahim. 2000. Pembelajaran Kooperatif. Surabaya: University Press

Nana Sudjana. 2005. Penilaian Hasil Proses Belajar Mengajar. Bandung: PT. Remaja Rosdikarya

Purnamawati dan Eldarni. 2001. Media Pembelajaran. Jakarta: CV. Rajawali.

Rivai, dkk. 1991. Media Pengajaran. Bandung: CV. Sinar Baru

Trianto. 2010. Mendesain Model Pembelajaran Inovatif-progresif. Jakarta: Kencana

Sardiman, A.M. 2001. Interaksi dan Motivasi Belajar Mengajar. Jakarta: Rajawali

Suprijono. 2011. Suprijono, Agus. Cooperative Learning: Teori dan Aplikasi PAIKEM. Yogyakarta: Pustaka Pelajar

Winkel, W.S. 1996. Psikologi Pengajaran. Jakarta: PT. Grasindo.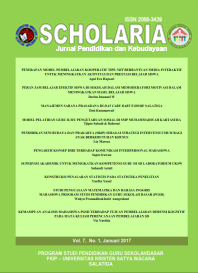 How to Cite
Hapsari, A. (2017). Penerapan Model Pembelajaran Kooperatif Tipe Numbered Heads Together Berbantuan Media Interaktif untuk Meningkatkan Aktivitas dan Prestasi Belajar Siswa. Scholaria: Jurnal Pendidikan Dan Kebudayaan, 7(1), 1-9. https://doi.org/https://doi.org/10.24246/j.scholaria.2017.v7.i1.p1-9

Scholaria: Jurnal Pendidikan dan Kebudayaan is licensed under a Creative Commons Attribution 4.0 International License