Reflective Journal as a Self-Directed and Sustainable Professional Development Tool for Pre-Service Teachers: A Case Study in English Language Education Study Program
Atalya Agustin

Faculty of Education, Universitas Pelita Harapan
Keywords:
Reflective Journal, Self-Directed, Professional Development
Abstract
Teaching practice is one among many programs in teachers training which focuses on having a professional preparation for work. In this program, student-teachers are asked to improve their skills through teaching actual students and engaging with school environment. Moreover, they are also building their own knowledge based on the improved teaching and learning process. It is crucial for them as pre-service teachers to encounter such experience. This meaningful theory and experience-based insights are possible to obtain if the student-teachers possess the commitment of self-reflection. There is likely a big chance that this action will be perpetual because of this personal initiative. This study aims to analyze the use of reflective journal as pre-service teachers' professional development tool, their attitude towards reflective journal, as well as the strength and challenges arise related to the use of reflective journal during their teaching practice. The type of the research is a qualitative case study research. The data collection techniques being used are questionnaire and Focus Group Discussion (FGD). Moreover, the technique of analyzing the data was Miles and Huberman concept of data reduction, data presentation, and conclusion drawing. The results of this research will be presented in a descriptive-narrative manner by describing and discussing the data of the research.
Downloads
Download data is not yet available.
References
Bassey, Michael. (1999). Case study research in educational settings. Buckingham: Open University Press.

Brookfield, Stephen. (1995). Becoming a Critically Reflective Teacher. San Fransisco: Jossey-Bass.

Farrel, Thomas.S.C. (2013). Reflective Teaching: English Language Teacher Development Series. Virginia: TESOL International Association.

Göker, S.D. (2016). Use of Reflective Journals in Development of Teachers' Leadership and Teaching

Skills, 4(12A), 63-70. Doi: 10. 13189/ujer.2016.041309.

Guskey, (2002). Professional development and teacher change. Teachers and Teaching: Theory and Practice, 8(3/4), 381-391. doi: 10.1080/135406002100000512.

Mulyana, D. (2010). Metodologi penelitian kualitatif: paradigma baru ilmu komunikasi dan ilmu sosial lainnya. Bandung: PT. Remaja Rosdakarya.

Lessing, A. & de Witt, M. (2007). The value of continuous professional development: teachers' perceptions. South African Journal of Education, 27(1), 53-67. ISSN: 2076-3433.

Lingam, G., Lingam, N., & Raghuwaiya, K. (2014). Professional development of pre-service teachers: the case of practicum experience. World Academy of Science, Engineering and Technology, 8 (7), 2134-2130. ISSN: 0950-4125.

Meng, Kathy. (2014). A Research on Self-Directed Professional Development of a Teacher of TESOL in Chinese Context. In Zheng, F (Ed.), Proceedings of International Conference on Global Economy, Finance and Humanities Research 2014 (pp. 52-55). Tianjin, China: Atlantis Press. ISBN: 978-94-6252-006-6.

Minnot, M. A. (2010). Reflective teaching as self-directed professional development: building practical or work-related knowledge. Professional Development in Education, 36(1–2), 325-338. doi: 10.1080/19415250903457547.

Minott, M.A. (2010). Reflective Teaching and How it Aids in Coping with Heavy Workloads, Mandated Policies and Disagreements with Colleagues. Current Issues in Education, 13(1). Retrieved from http://cie.asu.edu/

Moon, Jennifer, A, (2005). A Handbook of reflective and experiential learning: theory and practice. New York: Routledge Falmer.

Schön, Donald, A. (1987). Educating the reflective practitioner: toward a new design for teaching and learning on the professions. San Francisco: Jossey-Bass Publishers.

Shandomo, Hibajene. E. (2010). The role of critical reflection in teacher education. ERIC: Institute of Education Sciences. 4(1), 101-113.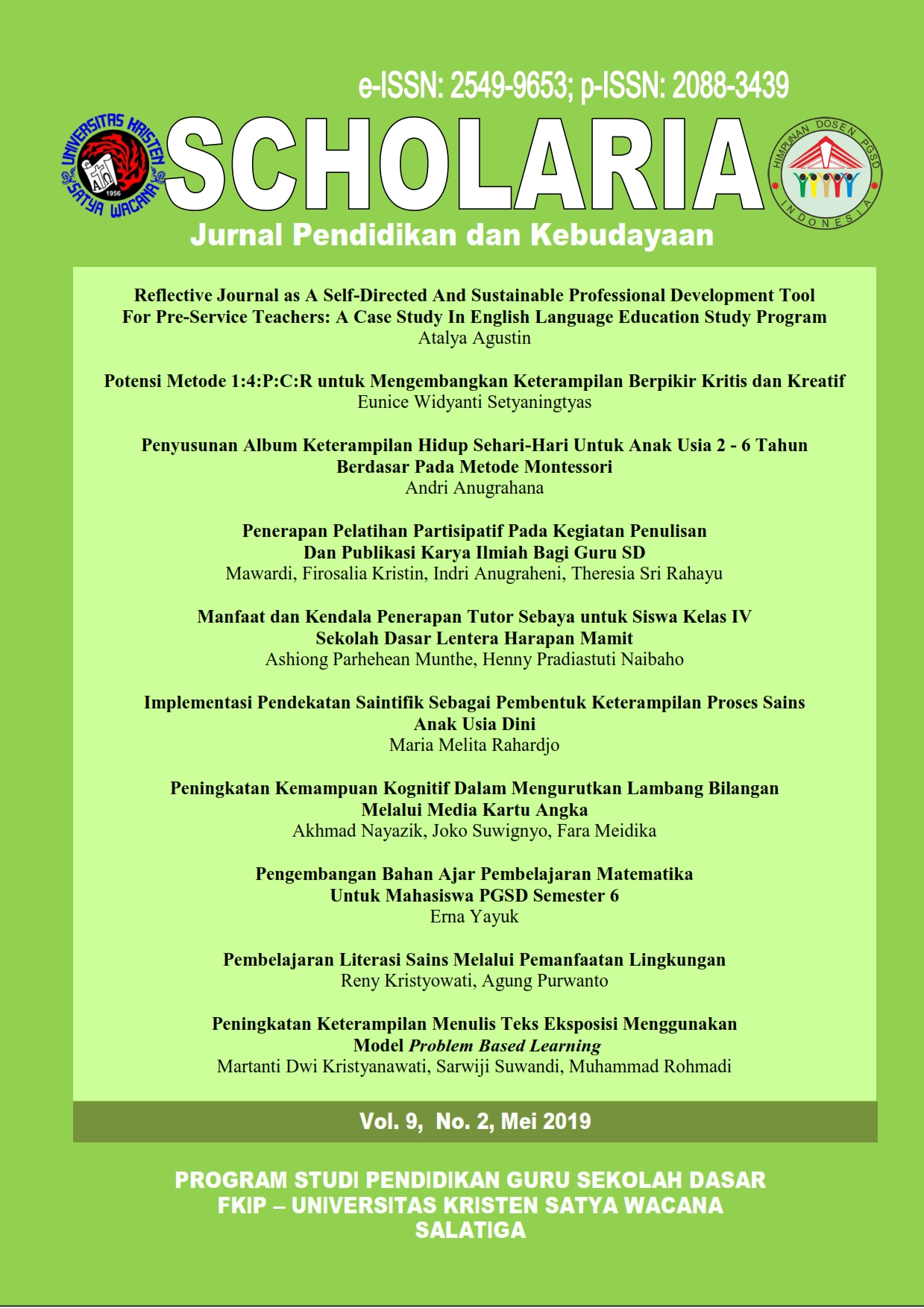 How to Cite
Agustin, A. (2019). Reflective Journal as a Self-Directed and Sustainable Professional Development Tool for Pre-Service Teachers: A Case Study in English Language Education Study Program. Scholaria: Jurnal Pendidikan Dan Kebudayaan, 9(2), 103-110. https://doi.org/https://doi.org/10.24246/j.js.2019.v9.i2.p103-110
This work is licensed under a Creative Commons Attribution 4.0 International License.

Scholaria: Jurnal Pendidikan dan Kebudayaan is licensed under a Creative Commons Attribution 4.0 International License