Potensi Metode 1:4:P:C:R untuk Mengembangkan Keterampilan Berpikir Kritis dan Kreatif
Eunice Widyanti Setyaningtyas

Pendidikan Guru Sekolah Dasar, Universitas Kristen Satya Wacana
Keywords:
Critical Thinking, Creative Thinking, 1:4:P:C:R Method, Teaching-Learning Method
Abstract
This article discusses about the implementation of 1:4:P:C:R teaching and learning method related to its potential to stimulate critical and creative thinking skill of the students. This is based on the fact that critical and creative thinking skills has never been an out-to-dated discussion in education as it has to be taught and trained to prepare the students function well in all aspects in professional and private life. Therefore, lecturers need to design instruction that can help students teachers learn and develop their capacity of thinking critically and creatively. It is hoped that the discussion can be a useful inspiration for other lecturers in applying the critical and creative thinking strategies in their classes. This article is a result of observation in Curricullum and Learning subject in three classes using the 1:4:P:C:R method in the Elementary School Teacher Training and Education, UKSW. This observation study functions as a preliminary study before doing further research. The result showed that 1:4:P:C:R could start the student teachers to think critically because students had to give information to their peers in the area of material in which their peers are lacking, also to think creatively as students needed to create a product to show their knowledge to others.
Downloads
Download data is not yet available.
References
Aprila, F. 2017. Improving Students' Participation in Speaking English Using Talkshow Technique. Jurnal Pendidikan dan Pembelajaran, 6(8), 1-10.

Bagheri, F. 2015. The Relationship between Critical Thinking and Language Learning Strategies of EFL Learners. Journal of Language Teaching and Research, 6 (5), 969-975.

Diyanni, R. 2016. Critical and Creative Thinking: A Brief Guide for Teachers. West Sussex, UK: John Wiley & Sons, Inc.

Fisher, A. 2007. Critical Thinking: An Introduction. Cambridge: Cambridge University Press.

Iakovos,T. 2011. Critical and Creative Thinking in the English Language Classroom. International Journal of Humanities and Social Science 1(8), 82-86.

ITC Publication. 2014. Innovative Student Companion. Australia: ITC Publication.

Kabilan, M.K. 2000. Creative and Critical Thinking in Language Classrooms. The Internet TESL Journal, VI (6).

Mahsun. 2014. Pembelajaran Bahasa Indonesia Berbasis Teks. Depok: Rajawali Pers.

Novena, V., & Kriswandani, K. (2018). Pengaruh Model Pembelajaran Probing Prompting Terhadap Hasil Belajar Ditinjau Dari Self-Efficacy. Scholaria: Jurnal Pendidikan dan Kebudayaan, 8(2), 189-196. https://doi.org/https://doi.org/10.24246/j.js.2018.v8.i2.p189-196

Paul, R. & Elder, L. 2014. Critical Thinking: Tools for Taking Charge for Your Professional and Personal Life. New Jersey, US: Pearson Education.

Printandhari, M. 2016. Penerapan Komik Strip Sebagai Media Pembelajaran Mata Kuliah Manajemen Keuangan Mahasiswa Universitas Muhammadiyah Metro. Jurnal FKIP Universitas Muhamadyah Metro, 4 (2), 1-7.

Printina, B.I. 2019. Pemanfaatan Media Komik Digital Melalui Unsur PPR (Paradigma Pedagogi Reflektif) Pada Matakuliah Sejarah Asia Barat Modern. Jurnal Pendidikan Sejarah, 8 (1).

Ratnawuri, T. 2016. Pemanfaatan Komik Strip Sebagai Media Pembelajaran Mahasiswa Pendidikan Ekonomi UM Metro. Jurnal FKIP Universitas Muhamadyah Metro, 4 (2), 8-12.

Sieglova, D. 2017. Critical Thinking for Language Learning and Teaching: Methods for the 21st Century. Cross-Cultural Business Conference 2017. Austria: University of Applied Sciences Upper Austria.

Surijah, dkk. 2018. Komik Sebagai Media Pembelajaran Statistika. Jurnal Psikologi Insight Departemen Psikologi, 2 (2), 39-50.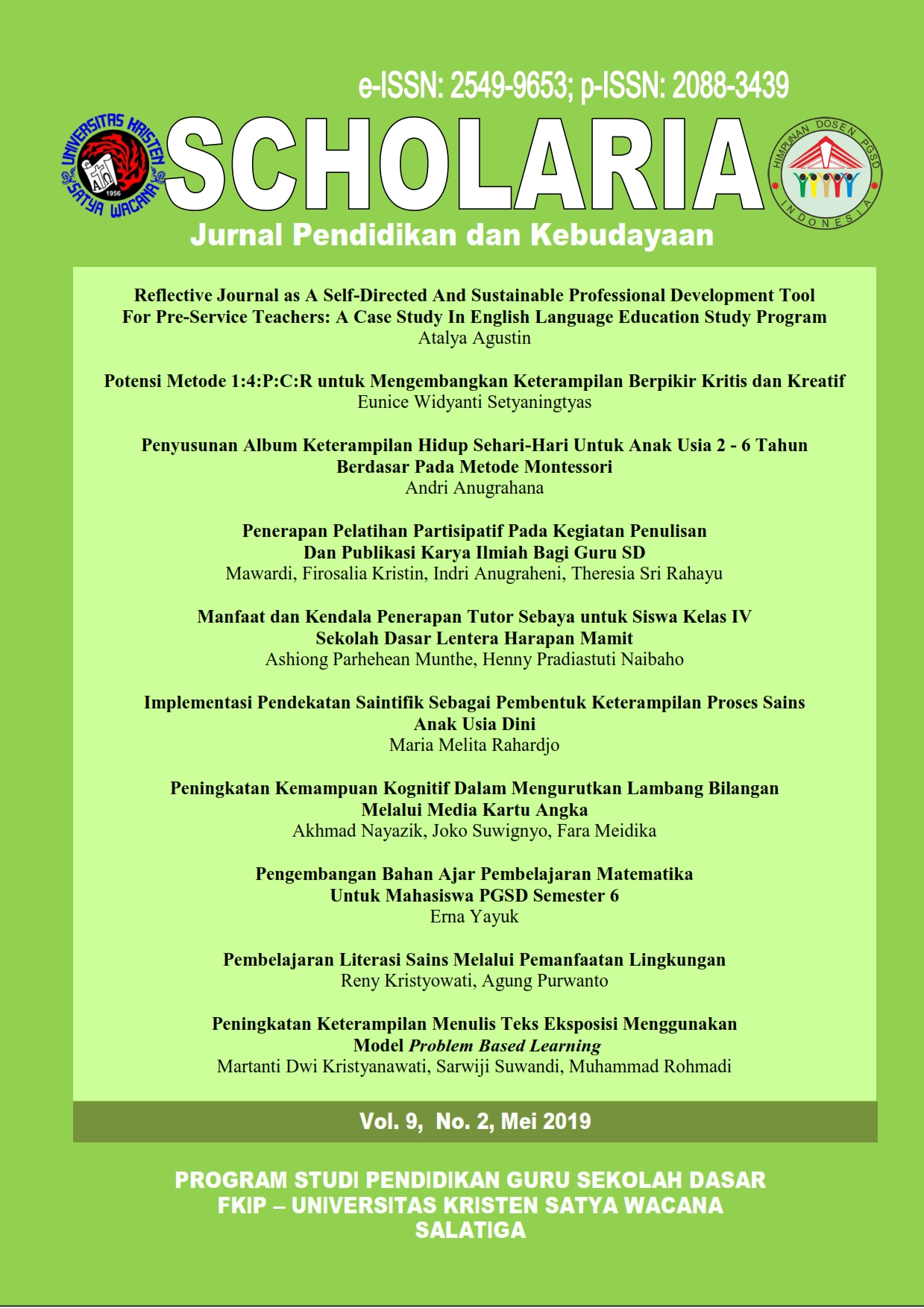 How to Cite
Setyaningtyas, E. (2019). Potensi Metode 1:4:P:C:R untuk Mengembangkan Keterampilan Berpikir Kritis dan Kreatif. Scholaria: Jurnal Pendidikan Dan Kebudayaan, 9(2), 111-121. https://doi.org/https://doi.org/10.24246/j.js.2019.v9.i2.p111-121
This work is licensed under a Creative Commons Attribution 4.0 International License.

Scholaria: Jurnal Pendidikan dan Kebudayaan is licensed under a Creative Commons Attribution 4.0 International License