Pengembangan Kartu Domano (Domino Matematika Trigono) Sebagai Media Pembelajaran Pada Matakuliah Trigonometri
Kristian Tantra Sidarta

Pendidikan Matematika, Fakultas Keguruan dan Ilmu Pendidikan, Universitas Kristen Satya Wacana

Tri Nova Hasti Yunianta

Pendidikan Matematika, Fakultas Keguruan dan Ilmu Pendidikan, Universitas Kristen Satya Wacana
Keywords:
Development, Instructional Media, Domano Card, Trigonometry
Abstract
This research aims is to develop a learning media called Domano Card, that is an abbreviation  from Trigono mathematics Dominoes. This media is expected to be valid, effective, and practical to be used as a learning tool for Trigonometry Courses in the college. It is consists of three sets of Domano cards, game boards, and game rules. This Domano Card contains of the pairs of questions and answers. This research type is Research Development (R&D) with ADDIE model (Analyze, Design, Development, Implementation, Evaluate). The subject of this research is 64 active students of Mathematics Education, Satya Wacana Christian University in Trigonometry course. Domano cards are developed based on the students' learning styles. Validity test was done by 2 validators, there are media experts and material experts It has obtained media feasibility result of 98.71% with very decent category and the result of material feasibility of 92.5% with very decent category. The effectiveness test was done by Paired Samples t-test with SPSS 17. It is indicated that there is a significant differences after the use of Domano Card with the mean value improvement from 57 to 73. The respondents of practicality test are lecturer of Trigonometry course and the lecturer assistant class that obtained 89% with very good category. Based on this development research, it can be concluded that Domano Card media is valid, effective, and practical use as a means of self-learning exercises for students in Trigonometry courses.
Downloads
Download data is not yet available.
References
Aprinawati, Iis. 2017. Penggunaan Media Kartu Domino Bilangan Dapat Meningkatkan Hasil Belajar Matematika Siswa Kelas V SD. Jurnal Pelangi stkip-pgri-sumbar 9(2), 123.

Arsyad, A. 2011. Media Pembelajaran. Jakarta: Rajawali Press.

Harjanto. 1997. Perencanaan Pengajaran. Jakarta: PT Rineka Cipta.

Indriana, D. 2011. Ragam Alat Bantu Media Pengajaran. Jogjakarta: Diva Press.

Kriswandani & Wahyudi. 2013. Pengembangan Pembelajaran Matematika SD. Salatiga: Widya Sari Press.

Larasati, L. D., & Poedjiastuti, S. (2016). Pengembangan Permainan Kartu Domino Kimia Sebagai Media Pembelajaran Pada Materi Unsur Bagi Siswa SMALB Tunarungu. UNESA Journal of Chemical Education 5(1), 115-119.

Nengsih, R. F., & Rochmawati. (2014). Pengembangan Kartu Domino Sebagai Media Pembelajaran Akuntansi Pada Materi Ayat Jurnal Penyesuaian. Jurnal Pendidikan Akuntansi (JPAK) 2(2),6-7.

Petrus. 2013. Penerapan Alat Peraga IPA Terhadap Peningkatan Hasil Belajar Konsep Rangkaian Listrik dan Kemagnetan Pada Siswa Kelas VI SD Kristen Belakang Soyta A1 Ambon. Jurnal Dinamika Pendidikan 6(2), 2013, 82-92.

Pribadi, B. A. 2011. Model Desain Sistem Pembelajaran. Jakarta : Dian Rakyat.

Sadiman, A. S dkk. (2007). Media Pendidikan: pengertian, pengembangan, dan pemanfaatannya. Jakarta: PT. RajaGrafindo Persada.

Setyawati, R. D., & Handayanto, A. (2011). Peningkatan Kualitas Pembelajaran Melalui Model Pembelajaran Problem Posing Tipe Presolution Posing Secara berkelompok Berbasis Karakter Bangsa. Jurnal AKSIOMA 2(2), 1-10.

Sugiyono. 2010. Metode penelitian pendidikan. Bandung: Alfabeta

Sukmadinata, N. S. 2009. Metode Penelitian Pendidikan. Bandung: PT Remaja Rosdakarya.

Sundayana, R. 2013. Media Pembelajaran Matematika. Bandung: Alfabeta.

Syafik, A. 2012. Permainan Matematika Sebagai Metode Alternatif Dalam Pembelajaran Matematika Pada Siswa Kelas I Sekolah Dasar. Jurnal LIMIT-Pendidikan Matematika, 02 (2), 21-36.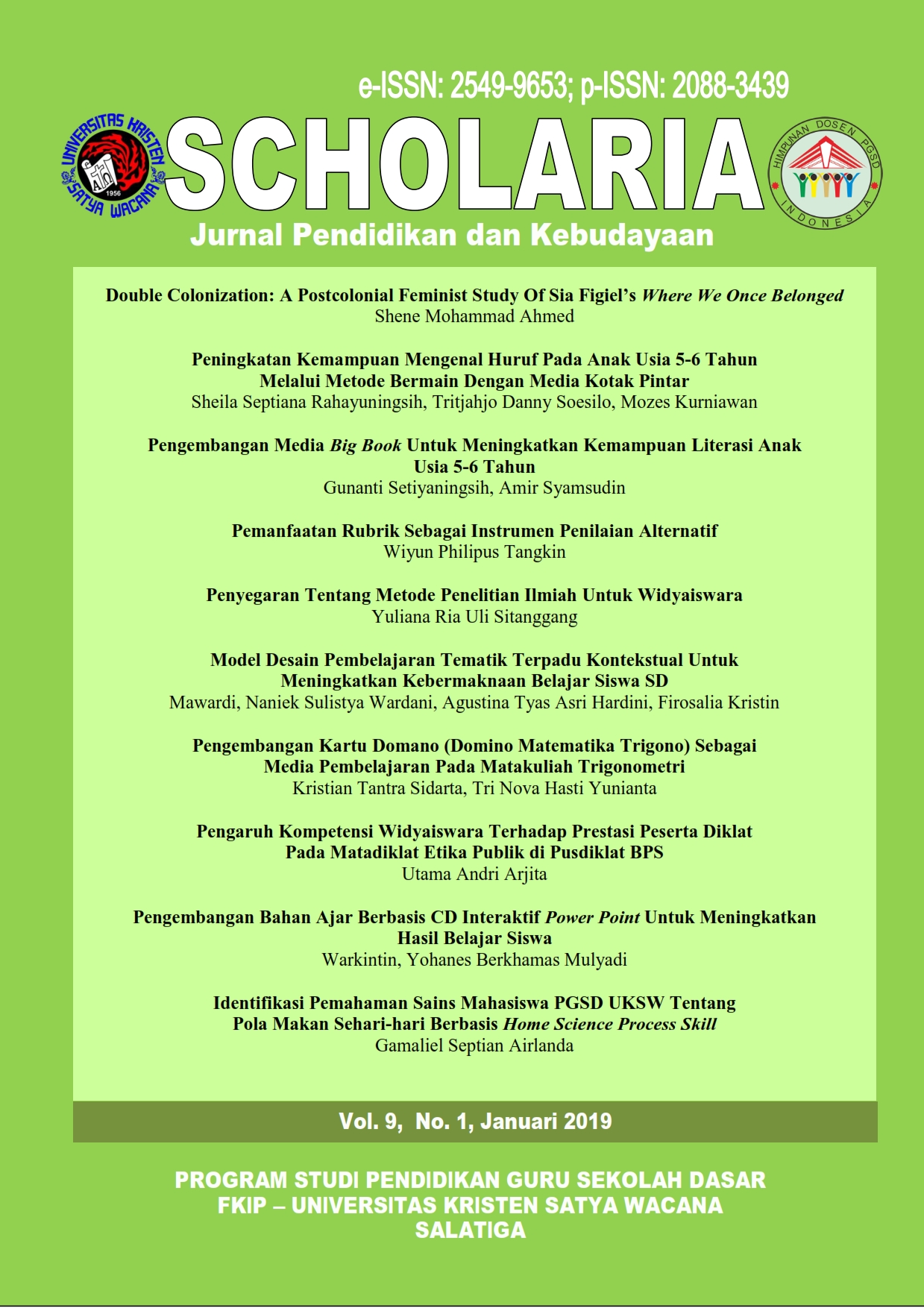 How to Cite
Sidarta, K., & Yunianta, T. (2019). Pengembangan Kartu Domano (Domino Matematika Trigono) Sebagai Media Pembelajaran Pada Matakuliah Trigonometri. Scholaria: Jurnal Pendidikan Dan Kebudayaan, 9(1), 62-75. https://doi.org/https://doi.org/10.24246/j.js.2019.v9.i1.p62-75
This work is licensed under a Creative Commons Attribution 4.0 International License.

Scholaria: Jurnal Pendidikan dan Kebudayaan is licensed under a Creative Commons Attribution 4.0 International License