Penyegaran Tentang Metode Penelitian Ilmiah Untuk Widyaiswara
Yuliana Ria Uli Sitanggang

Badan Pusat Statistik
Keywords:
Scientific Research, The Research Process, The Ethics Of Scientific Research
Abstract
Producing a scientific article is one of the requirements that must be met by the Widyaiswara (civil servants who are responsible for doing education and training for other civil servas) to be able achieve higher level of rank and positions. This paper is intended to motivate the Widyaiswara in conducting scientific research. This article briefly discusses about the relevance of knowledge and research, the research processes, the hypothetical example of scientific research and scientific research ethics.
Downloads
Download data is not yet available.
References
Abhary, K., Adriansen, H. K., Begovac, F., Djukic, D., Qin, B., Spuzic, S., Wood, D. & Xing, K. (2009). Some basic aspects of knowledge. Procedia-Social and Behavioral Sciences, 1(1), 1753-1758.

Arthur, R. 2018. Evaluasi Program Diklat Karya Tulis Ilmiah Untuk Widyaiswara Pusbangtendik Kemdikbud, dalam Jurnal Penelitian dan Evaluasi Pendidikan, 22(1),35-48.

Bazerman, C. (1981). The informed writer. Houghton Mifflin Company.

Belitz, H., Junker, S., Podstawski, M., & Schiersch, A. (2015). Growth through research and development. DIW Economic Bulletin, 5(35), 455-465.

Bhattacherjee, A. 2012. Social science research: principles, methods, and practices.

Czarl, A., & Belovecz, M. 2007. Role of Research and Development in the 21st Century. In Proceedings of the Eight International Conference on Informatics in Economy (pp. 497-502).

Eid, F. H. (2014). Research, Higher Education and the Quality of Teaching: Inquiry in a Japanese Academic Context. Research in Higher Education Journal, 24.

Farrugia, P., Petrisor, B. A., Farrokhyar, F., & Bhandari, M. (2010). Research questions, hypotheses and objectives. Canadian Journal of Surgery, 53(4), 278–281.

Hajirostamlo, B., Mirsaeedghazi, N., Arefnia, M., Shariati, M. A., & Fard, E. A. (2015). The Role of Research and Development in Agriculture and Its Dependent Concepts in Agriculture. Asian Journal Of Applied Science And Engineering, 4(1), 78-80.

Hunt, D. P. 2003. The concept of knowledge and how to measure it. Journal of intellectual capital, 4(1), 100-113.

Kothari, C. R. 2004. Research methodology: Methods and techniques. New Age International.

Lacewing, M. 2015. The tripartite definition of knowledge. An Online Journal taken from www. olevelphilosophy. co. uk.

Lin, G. 2009. Higher education research methodology-literature method. International Education Studies, 2(4), 179.

Nuijten, E. 2011. Combining research styles of the natural and social sciences in agricultural research. NJAS-Wageningen Journal of Life Sciences, 57(3), 197-205.

Rajasekar, S., Philominathan, P., & Chinnathambi, V. (2006). Research methodology. arXiv preprint physics/0601009.

Ten Berge, T., & Van Hezewijk, R. (1999). Procedural and declarative knowledge an evolutionary perspective. Theory & Psychology, 9(5), 605-624.

van Wyk, B. 2012. Research design and methods Part I. University of Western Cape.

Yilmaz, I., & Yalcin, N. (2012). The relationship of procedural and declarative knowledge of science teacher candidates in newton's laws of motion to understanding. American International Journal of Contemporary Research, 2(3), 50-56.

Republik Indonesia. 2015. Peraturan Bersama Kepala Lembaga Administrasi Negara dan Kepala Badan Kepegawaian Negara Nomor 1 Tahun 2015 dan Nomor 8 Tahun 2015 tentang Ketentuan Pelaksanaan Peraturan Menteri Pendayagunaan Aparatur Negara dan Reformasi Birokrasi Republik Indonesia. Sekretariat Negara. Jakarta.

Peraturan Menteri Pendayagunaan Aparatur Negara dan Reformasi Birokrasi Republik Indonesia Nomor 22 Tahun 2014 Tentang Jabatan Fungsional Widyaiswara dan Angka Kreditnya.

Stafford, J. T. 2006. The Importance of Educational Research in the Teaching of History. Canadian Social Studies, 40(1), n1.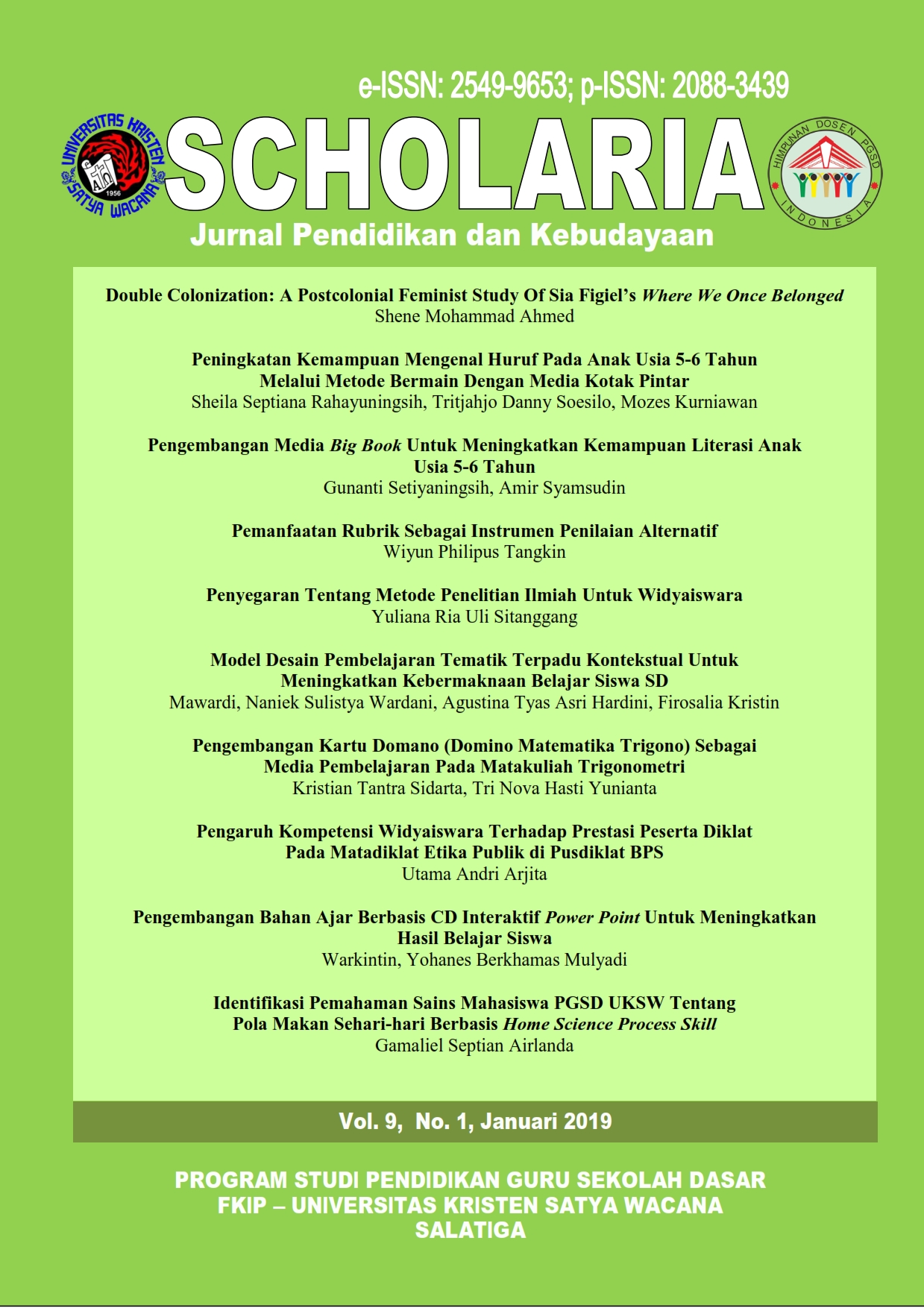 How to Cite
Sitanggang, Y. (2019). Penyegaran Tentang Metode Penelitian Ilmiah Untuk Widyaiswara. Scholaria: Jurnal Pendidikan Dan Kebudayaan, 9(1), 40-47. https://doi.org/https://doi.org/10.24246/j.js.2019.v9.i1.p40-47
This work is licensed under a Creative Commons Attribution 4.0 International License.

Scholaria: Jurnal Pendidikan dan Kebudayaan is licensed under a Creative Commons Attribution 4.0 International License