Double Colonization: A Postcolonial Feminist Study Of Sia Figiel's Where We Once Belonged
Shene Mohammad Ahmed

School of Basic Education/ English Department, University of Sulimani
Keywords:
Colonialism, Postcolonial Feminism, Double Colonization, Orientalism
Abstract
The article deals with analyzing female characters in the WHERE WE ONCE BELONGED by Sia Figiel. The novel is important for students who study postcolonialism and feminism as it gives an insight for gender and race issues.  The aim of this article is to show how females in a male-dominated societies are persecuted. Furthermore, females are regarded as inferior according to Edward Said's theory of Orientalism.  The Samoan culture was once colonized by the British. Therefore, the legacy of colonialism and its effects remains there, even after the national independence. It first gives some clarifications about the publishing of the novel and the writer. Then, it comes to the discussion about the colonialism in the novels with its connections to the main characters and how the colonizers were, and also how it affected their lives. In the next part, it explains double colonization. It talks about how almost all of the postcolonial writings were occupied by how women were muted. Then, it recalls how the female characters were suppressed and oppressed by the males and the English dominant power. It shows how they were double-colonized, not having even the freedom to show it.
Downloads
Download data is not yet available.
References
Ashcroft, B. 1989. Gareth Griffiths, and Helen Tiffin. The Empire Writes Back: Theory and Practice in Postcolonial Literatures. London: Routledge.

Brown, T. 2015. "Book Review - Free Love", Te Kaharoa, 8(1). doi: 10.24135/tekaharoa.v8i1.35.

Bulbeck, C. 1998. Re-orienting western feminisms: women's diversity in a postcolonial world. Cambridge New York: Cambridge University Press.

Crane , M . 2004. The Political Junkie Handbook. Publisher: S.P.I. Books.

Figiel, S. 1996. Where We Once Belonged . London : Penguin group.

Guerin et al. 2005. in A Hand Book Of Critical Approaches To Literature.

Henderson, K. 2016. April The I and the We: Individuality, Collectivity, and Samoan Artistic Responses to Cultural Change. University of Hawai'i Press.

Holst,P Kirsten & Anna, R .(1988).Double Colonization: Colonial and Post-Colonial Women's Writing. Inland Book Company.

Hooks, b. 1999. Black Looks and Race and Representation, South End Press Boston, Kaya Press.

Keown, M. 2004. Postcolonial Pacific Writing: Representations of The Body, London: Routledge.

Lingis, A. 1999. "The Subjectification of the Body" In The Body, Ed. Donn Welton. Malden, Massachusetts: Blackwell Publishers Ltd .

Lowe, L. 1997. Immigrant Acts: On Asian American Cultural Politics. Durham: Duke UP.

Macpherson, C&La'avasa, M. (1987). Towards an Explanation of Recent Trends in Suicide in Western Samoa. Man 22 (2 [June]): 305–330.

McLeod, A. 1997. "The most exciting recent book" In New Zealand Books, 7:2, June 1997: 1/5.

Melucci, A. 1979. Identity and Difference in a Globalized World In Debating Cultural Hybridity, Eds. Pnina Werbner and Tariq Modood. London: Zed Books .

Melucci, A. 1997. "Identity and Difference in a Globalized World" In Debating Cultural Hybridity, Eds. Pnina Werbner and Tariq Modood. London: Zed Books 58 – 69.

Nejat, J. 2014. "Double Colonization in John Maxwell Coetzee's Disgrace" 2014 JNAS Journal-2014-3-1/40-44.

Said,E . 1967.Orientalism. New York: Vintage Books.

Said,E. 1993. Culture and Imperialism. London: Chatto and Windus.

Shenmugasundaram,Y. 2017. POSTCOLONIAL FEMINISM.

Solar, V. 2010. Imagined Islands: American Empire and Identity in the Postcolonial Pacific. Doctor of Philosophy. UNIVERSITY OF CALIFORNIA RIVERSIDE.

Yamomto, T. 2000. Journal of Asian American Studies: Volume 3, Number 3. Johns Hopkins University Press.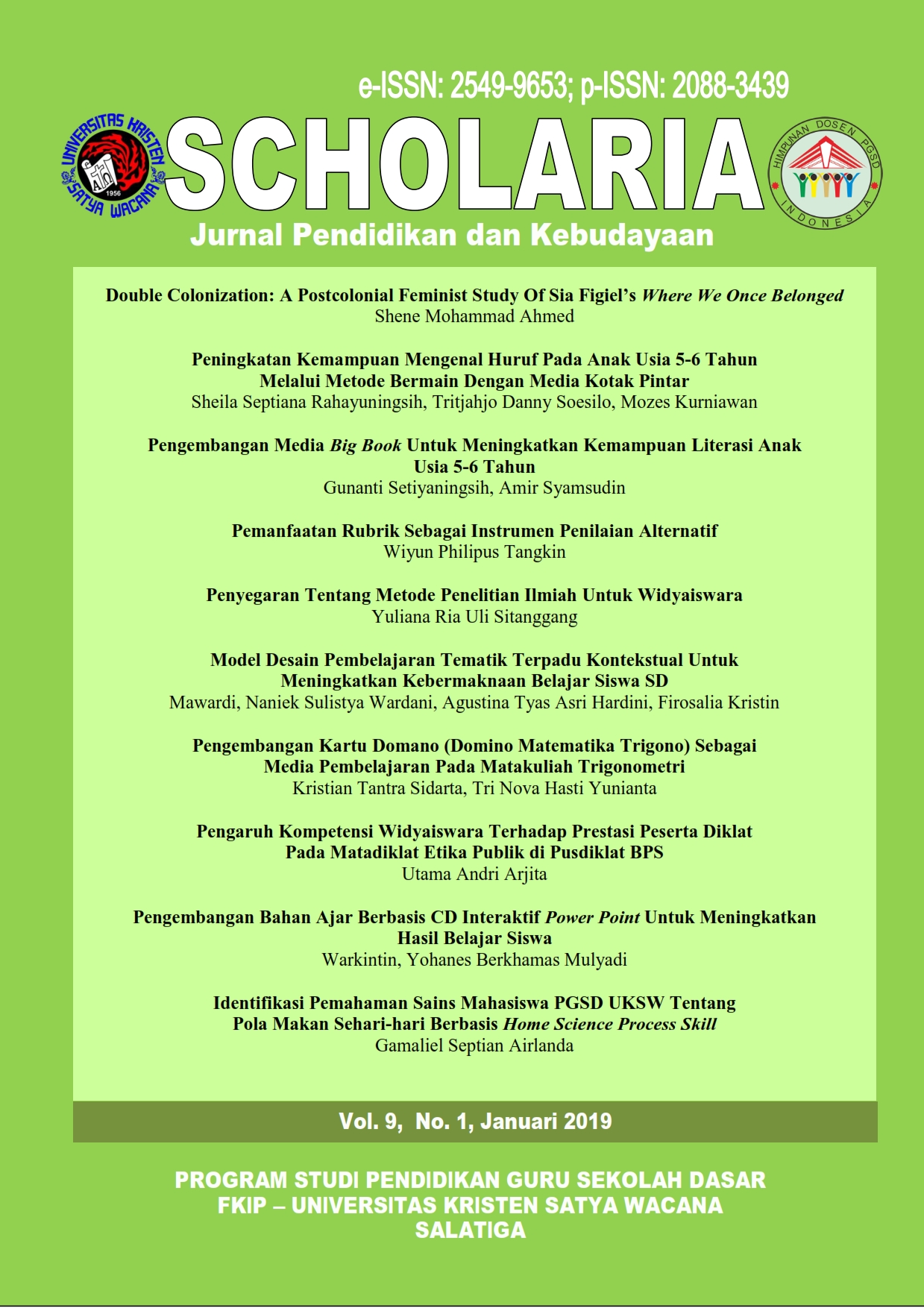 How to Cite
Ahmed, S. (2019). Double Colonization: A Postcolonial Feminist Study Of Sia Figiel's Where We Once Belonged. Scholaria: Jurnal Pendidikan Dan Kebudayaan, 9(1), 1-10. https://doi.org/https://doi.org/10.24246/j.js.2019.v9.i1.p1-10
This work is licensed under a Creative Commons Attribution 4.0 International License.

Scholaria: Jurnal Pendidikan dan Kebudayaan is licensed under a Creative Commons Attribution 4.0 International License