EFEKTIVITAS MODEL THINK TALK WRITE DAN THINK PAIR SHARE TERHADAP PENINGKATAN KEMAMPUAN KOMUNIKASI MATEMATIS SISWA KELAS 4 SD
Endah Murwatiningsih

SD Negeri Lodoyong 02 Ambarawa

Wahyudi Wahyudi

Universitas Kristen Satya Wacana

Yohana Setiawan

Universitas Kristen Satya Wacana
Keywords:
Think Talk Write, Think Pair Share, Mathematical Communication
Abstract
The purpose of this research is to identify the difference between the effectiveness of TTW and TPS models towards the improvement of ability in on 4th grader elementary school students. This experiment is a pseudo-experimental research. The sample of this research are 27 students of SDN Lodoyong 02 and 23 students of SDN Lodoyong 03.The data analytic used is pre-requisite test which showing the result of both groups are distributed normally and not homogeneous. The test of Independent sample T-test acquired t-count > t-table is 2,344>2,011 and score signification 0,023<0,05 which showing that Ho is refused and Ha is accepted. N-gain scoring analysis shows a student improvement after applying TTW model approximately 0,391 meanwhile after applying TPS model approximately 0,33. From the result of n-gain scoring, the difference of the two models can be seen approximately 0,061. Based on the data analysis, it's concluded that there is a difference of effectiveness which is significant. The applying of ttw model has a level of effectiveness higher than tps model towards the ability of mathematical communication on 4th grader students of elementary school.
Downloads
Download data is not yet available.
References
Azizah, S. N., & Wahyudi, W. (2018). Penerapan Model TTW Berbasis Saintifik Untuk Meningkatkan Hasil Belajar Tema Kebersamaan Siswa Kelas II. JINoP (Jurnal Inovasi Pembelajaran), 4(2), 160-171.
Brookhart, S. M. (2010). How To Assess Higher Order Thingking Skills In Your Classroom. Alexandria: ASCD.
Depdiknas, P. K. B. (2006). Kurikulum Tingkat Satuan Pendidikan. Jakarta: Depdiknas.
Indarwati, D., Wahyudi, & Ratu, N. (2014). Peningkatan Kemampuan Pemecahan Masalah Matematika Melalui Penerapan Problem Based Learning Untuk Siswa Kelas V SD. Satya Widya, 17-27.
Kusumaningrum, R., Budiyono, B., & Subanti, S. (2015). Eksperimentasi Model Pembelajaran Kooperatif Tipe Two Stay Two Stray (TSTS), Numbered Heads Together (NHT), dan Think Pair Share (TPS) Pada Materi Lingkaran Ditinjau Dari Kreativitas Belajar Matematika Siswa SMP Negeri di Kabupaten Sukoharjo. Jurnal Pembelajaran Matematika, 3(7).
Marviana, N. I., Wahyudi, W., & Indarini, E. (2018). Efektivitas Model CIRC Dan GGE Terhadap Kemampuan Pemecahan Masalah Matematika SD. JUSTEK| Jurnal Sains & Teknologi, 1(1), 89-94.
Nadhiroh, H., Jamiah, Y., & Yani, A. (2015). Model Pembelajaran TTW dan TPS Terhadap Kemampuan Komunikasi Matematis Siswa Dalam Materi Bangun Datar. Jurnal Pendidikan dan Pembelajaran, 4(9).
Natalliasari, I. (2013). Penggunaan Model Pembelajaran Kooperatif Tipe Think Pair Share (TPS) Untuk Meningkatkan Kemampuan Penalaran Dan Pemecahan Masalah Matematis Siswa MTs (Doctoral dissertation, Universitas Terbuka).
NCTM. 2000. Principles and Standards for School Mathematics. [Online]. Tersedia: http://www.nctm.org/uploadedFiles/Standards_and_Positions/PSSM_ExecutiveSummary.pdf. (11 November 2015)
Septiani, A., Wahyudi, W., & Indarini, E. (2018). Penerapan Metode Think Talk Write Untuk Meningkatkan Kemampuan Komunikasi Dan Hasil Belajar Tema Daerah Tempat Tinggalku Siswa Kelas 4 Sdn Tegalrejo 01. KALAM CENDEKIA PGSD KEBUMEN, 6(3.1).
Suhartini, S. (2015). Peningkatan Keterampilan Menulis Naskah Drama Satu Babak Menggunakan Model Think-Pair-Share Berbantuan Alat Peraga Gambar Berseri. Satya Widya, 31(2), 83-89.
Sumirat, L. A. (2013). Efektifitas Strategi Pembelajaran Kooperatif Tipe Think-Talk-Write (TTW) Terhadap Kemampuan Komunikasi Dan Disposisi Matematis Siswa (Doctoral dissertation, Universitas Terbuka).
Suparya, I. K. (2019). Pengaruh Model Pembelajaran Kooperatif Tipe Think Talk Write (TTW) Terhadap Hasil Belajar Dan Kemampuan Berpikir Kritis Pada Pembelajaran IPA di Sekolah Dasar. Jurnal Widyacarya, 2(2), 19-24.
Tamyah, A., Asnawati, R., & Djalil, A. (2015). Efektivitas Model Problem Based Learning Ditinjau Dari Kemampuan Komunikasi Matematis Siswa. Jurnal Pendidikan Matematika Unila, 3(2).
Walle, J. A. 2006. Matematika Sekolah Dasar dan Menengah Jilid 2. Jakarta:Penerbit Erlangga.
Wirawan, K. (2017, June 2). caridokumen. Retrieved November 28, 2018, from caridokumen: https://caridokumen.com/download/model-pembelajaran-kooperatif-ttw-cooperative-ttw-learning-model-_5a4619beb7d7bc7b7aef058c_pdf
Yuniarti, Y. (2014). Pengembangan Kemampuan Komunikasi Matematis Dalam Pembelajaran Matematika Di Sekolah Dasar. EDUHUMANIORA: Jurnal Pendidikan Dasar, 6(2).
Zubaidah, S. (2016, December). Keterampilan Abad Ke-21: Keterampilan Yang Diajarkan Melalui Pembelajaran. In Seminar Nasional Pendidikan Dengan Tema "Isu-Isu Strategis Pembelajaran MIPA Abad (Vol. 21, No. 10).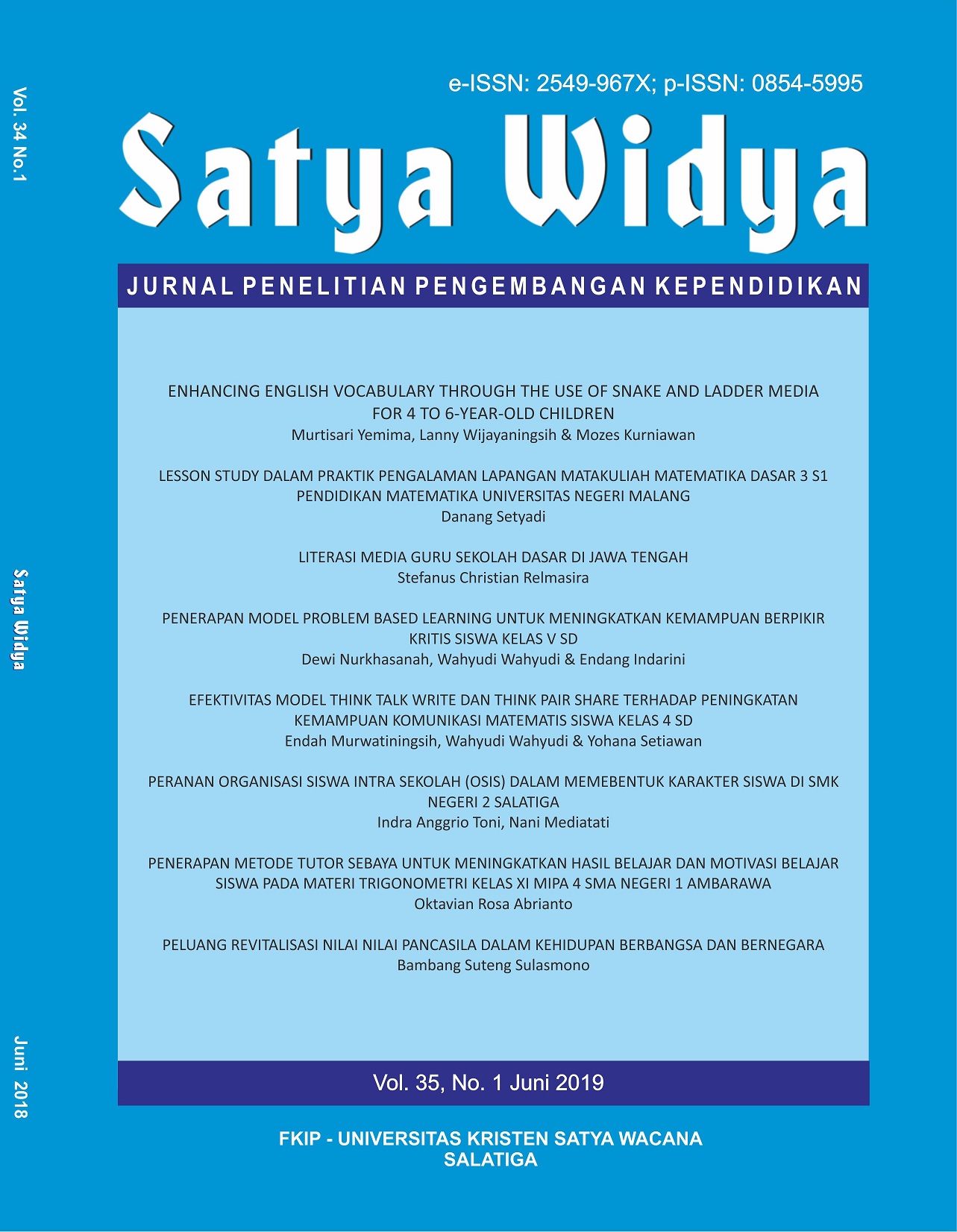 How to Cite
Murwatiningsih, E., Wahyudi, W., & Setiawan, Y. (2019). EFEKTIVITAS MODEL THINK TALK WRITE DAN THINK PAIR SHARE TERHADAP PENINGKATAN KEMAMPUAN KOMUNIKASI MATEMATIS SISWA KELAS 4 SD. Satya Widya, 35(1), 42-53. https://doi.org/10.24246/j.sw.2019.v35.i1.p42-53
Satya Widya is licensed under a 
Creative Commons Attribution 4.0 International License