ENHANCING ENGLISH VOCABULARY THROUGH THE USE OF SNAKE AND LADDER MEDIA FOR 4 TO 6-YEAR-OLD CHILDREN
Murtisari Yemima

Universitas Kristen Satya Wacana

Lanny Wijayaningsih

Universitas Kristen Satya Wacana

Mozes Kurniawan

Universitas Kristen Satya Wacana

http://orcid.org/0000-0001-5645-7411
Keywords:
Board Game, Childhood, English Education, Snake and Ladder, Vocabulary
Abstract
This study aims to improve the English vocabulary of 4 to 6-year-old children at TK Pertiwi 29 Semarang. This research includes classroom action research using snake and ladder media. The research subjects in this study were 20 students from kindergarten group B. Data collection techniques were observation, interview and discussion to classroom teachers and principals, as well as documentation. The research instrument used in this research was observation sheet in the form of checklist. The analysis is using observation data done gradually, then processed into tabulation of observation score and calculated its percentage according to children's name. The result of this study showed the improvement of percentage from pre-cycle that is 52%, cycle I, which is 59% and 77% in cycle II. Snake and ladder media used in English language learning gradually increase children's vocabulary.
Downloads
Download data is not yet available.
References
Arikunto, Suharsimi, & Supardi. (2007). Penelitian Tindakan Kelas. Jakarta: Bumi Aksara.
Azhar , A. (2007). Media Pembelajaran. Jakarta: raja grafindo persada.
Dulay , H., Burt, M., & Krashen, S. (1982). Language Two. Oxford University Press.
Gable, S., Belsky, J., & Crnic, K. (1992). Marriage, Parenting, and Child Development: Progress and Prospects. Journal of Family Psychology, 5(3-4), 276-294.
Gerlach, & Ely. (1971). Teaching & Media: A Systematic Approach. Boston: Allyn and Bacon.
Hetherington, E., & Parke, R. (1999). Child Psychology. Pennsylvania: McGraw-Hill College.
Husna, M. (2009). 100+ Permainan Tradisional Indinesia Untuk Kreativitas, Ketangkasan, Dan Keakraban. Yogyakarta: Andi.
Ismail, A. (2012). Edukatif Games. Yogyakarta: Pro-U Media.
Johnson , J., & Newport, E. (1991). Chritical Period Effects on Universal Properties Of Language: The Status Of Subjacency In The Acquisition Of A Second Language. National Institutes of Health, 39(3), 215-58.
Kurniawan, M., & Tanone, R. (2017). Mobile Learning in TESOL: A Golden Bridge for Enhancement of Grammar Awareness and Vocabulary Master? Asian EFL Journal, Research Edition, 8(1), 155 - 159.
Kustandi, C., & Sutjipto, B. (2011). Media Pembelajaran; Manual dan Digital. Bogor: Ghalia Indonesia.
Masnur, M. (2012). Melaksanakan PTK itu Mudah . Jakarta: Bumi Aksara.
Purboyo, K. (2004). Memilih, Menyusun Dan Menyajikan Cerita Untuk Anak Usia Dini. Yogyakarta: Tiara Wacana.
Riva, I. (2012). Koleksi Games Edukatif di Dalam dan di Luar Sekolah . Jogjakarta: FlashBooks.
Sadiman, A. (2003). Media Pendidikan. Jakarta: Raja Grafindo Persada.
Samapra, K. (2005). Kadhipta. Jakarta: Balai pustaka.
Santrock, J. (2007). Psikologi Perkembangan. Jakarta: Erlangga.
Taylor, S.E., Peplau, L.A. & Sears, D.O. (1997). Social Psycology. New Jersey: Prentice Hall.
The Regulation of Ministry of Education and Culture, Republic of Indonesia Number 137 (2014). National Standard of Early Childhood Education.
Wina, S. (2009). Strategi Pembelajaran Berorientasi Standar Proses Pendidikan. Jakarta: Kencana Prenada Media Group.
Yeti, M. (2007). Ketrampilan Berbahasa Indonesia SD. Jakarta: Universitas Terbuka.
Zubaidah. (2012). Peningkatan Keaktifan Belajar Matematika Melalui Model Pembelajaran Tematik Pada Siswa Kelas II Semester I SD Negri Kayen 05 Kecamatan Kayen Kabupaten Pati Tahun Pelajaran 2012/2013. Universitas Muhammadiyah Surakarta.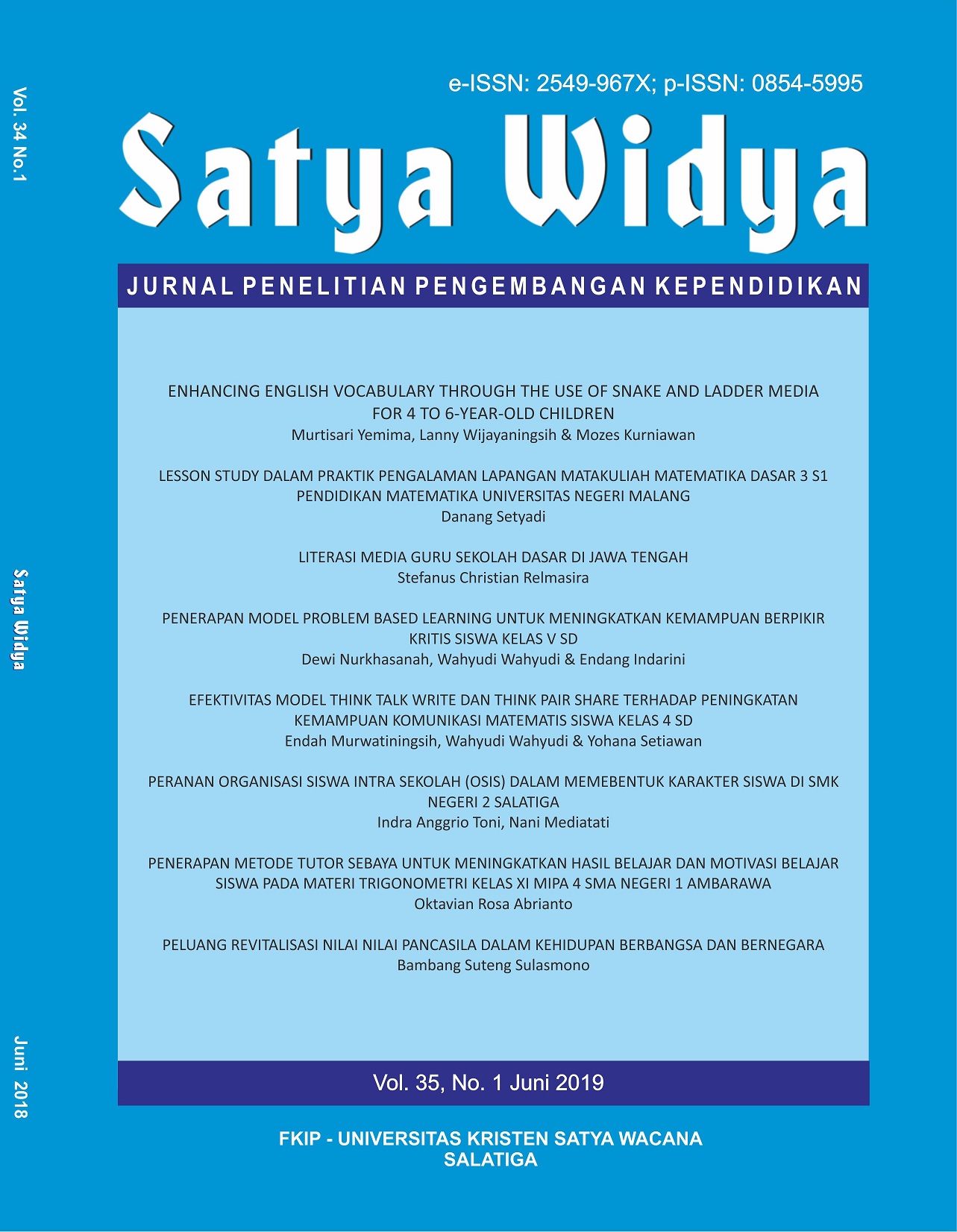 How to Cite
Yemima, M., Wijayaningsih, L., & Kurniawan, M. (2019). ENHANCING ENGLISH VOCABULARY THROUGH THE USE OF SNAKE AND LADDER MEDIA FOR 4 TO 6-YEAR-OLD CHILDREN. Satya Widya, 35(1), 1-15. https://doi.org/10.24246/j.sw.2019.v35.i1.p1-15
Satya Widya is licensed under a 
Creative Commons Attribution 4.0 International License