STRATEGI PERSIAPAN PENGAJUAN IJIN OPERASIONAL DI TPA BRIGHT MINDS SALATIGA
Catharina Leksananingtyas

Unversitas Kristen Satya Wacana

Lanny Wijayaningsih
Keywords:
Keywords: Daycare Center (TPA), TPA operational requirements, Operational Permits.
Abstract
ABSTRACT
The objective of thisresearch is to find out about the operational requirements of a Daycare Center (TPA) in order to help the TPA Bright Minds Salatiga getting its operational permit. The nature of this research is descriptive qualitative. Subjects of the study are the TPA Bright Minds Management and the Caregivers. Data is collected using observations, documentations, and deep interview methods. The collected data isanalyzed using techniques of data reduction, data presentation and verification. The results showed that there are two main categories of operational requirements, i.e. adminstrative and technical requirements. The administrative requirements include submision of  TPA founder identity, certificate of domicile from the local headman, structure and detailed role of each of the Board members. The technical requirements are legal and valid documents of ownership/leasing rights of the land and buildings, estimated operational costs of the TPA, plan of TPA implementation standards, and some other additional documents. Thus, based on study's results, it is to suggest that the TPA Bright Minds Salatiga, should immediately strategize an application of its operational permit to the authorities.
Downloads
Download data is not yet available.
References
Arifin Anwar. (1984). Strategi Komunikasi, (Bandung: Armilo)

Aprillia, Sherlly. (2015). Pelaksanaan Pengasuhan Anak UsiaDini Di Tempat Penitipan Anak
(TPA) Dharma Yoga Santi Yogyakarta. Skripsi (diterbitkan). Yogyakarta: Fakultas
Ilmu Pendidikan Universitas Negri Yogyakarta.

Hunger David dan Wheelen Thomas L. (2003) Manajemen Strategi, (Yogyakarta: Andi)

Keputusan Kepala Disidikpora Kota Salatiga Nomor 800/0514/101, tanggal 2 November 2016 tentang Penerapan Standar Operasional Prosedur (SOP) Pelayanan Perizinan Pendidikan Non Formal pada Dinas Pendidikan Pemuda dan Olahraga Kota Salatiga

http://news.liputan6.com/read/2050600/tak-memiliki-izin-kegiatan-playgroup-saint-monica-dihentikan, diakses pada 19 Desember 2017

https://www.kompasiana.com/afifahwindyaningrum/tahapan-pendirian,paud_54f70515a3331197238b45a4, diakses pada 19 desember 2017
Kusumawati,Desi. 2017. Manajemen Sarana Prasarana di Baby's Home Salatiga. Jurnal Scholaria, Vol. 7 No 1

Peraturan Menteri Pendidikan dan Kebudayaan Nomor 84 tahun 2014 tentang Pendirian Satuan Pendidikan Anak Usia Dini

Peraturan Menteri Pendidikan Nasional Republik Indonesia Nomor 58 tahun 2009

Sugiyono. 2010.Metode Penelitian Pendidikan (Pendidikan Kuantitatif, Kualitatif dan R&D). Bandung: Alfabeta

Syamsuddin,Erman. 2015. Nspk Norma, Standar, Prosedur, Dan Kriteria Petunjuk Teknis Penyelenggaraan Taman Penitipan Anak. Jakarta: Direktorat Pembinaan Pendidikan Anak Usia Dini Direktorat Jenderal Pendidikan Anak Usia Dini dan Pendidikan Masyarakat Kementerian Pendidikan dan Kebudayaan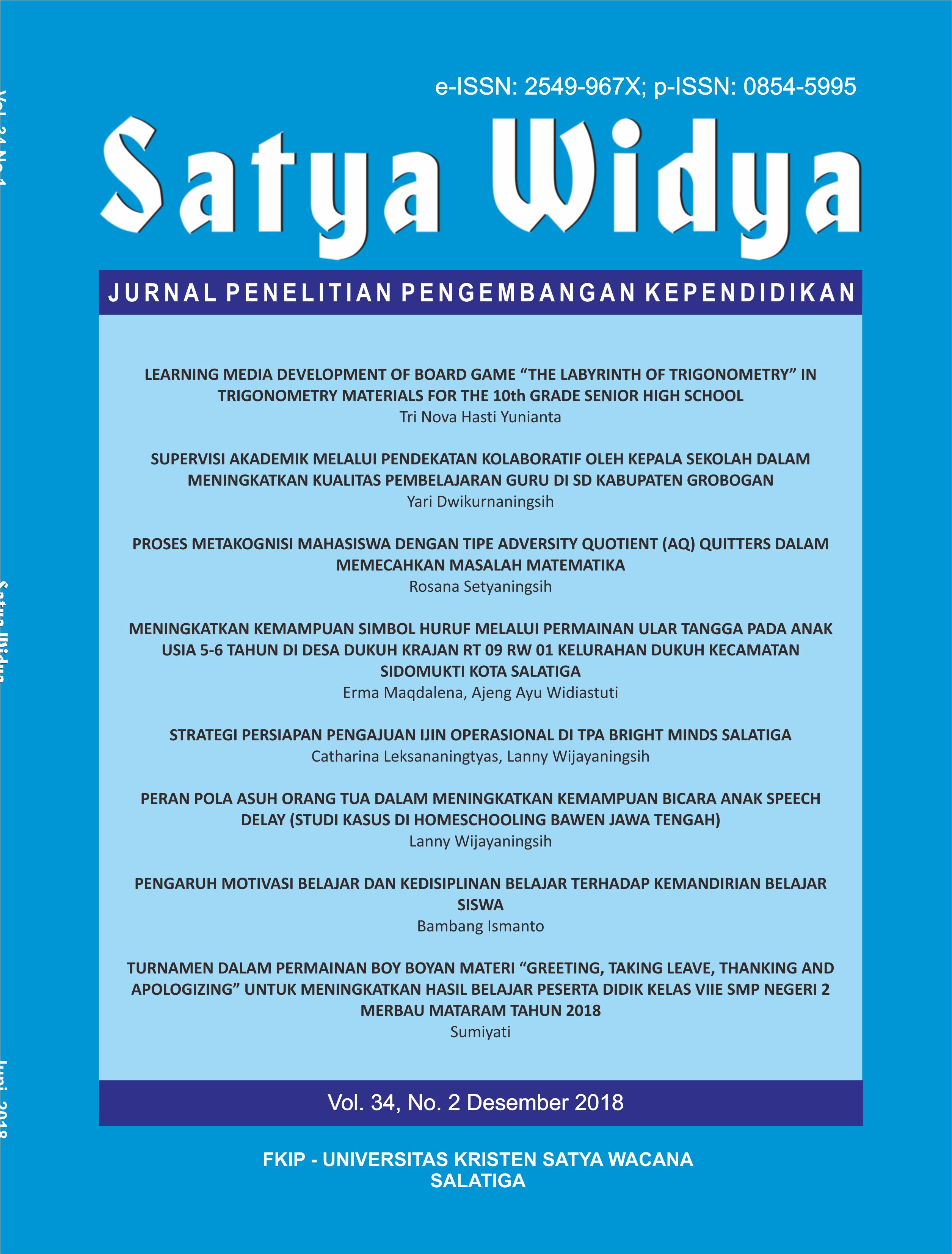 How to Cite
Leksananingtyas, C., & Wijayaningsih, L. (2019). STRATEGI PERSIAPAN PENGAJUAN IJIN OPERASIONAL DI TPA BRIGHT MINDS SALATIGA. Satya Widya, 34(2), 138-150. https://doi.org/https://doi.org/10.24246/j.sw.2018.v34.i2.p138-150
Satya Widya is licensed under a 
Creative Commons Attribution 4.0 International License