Desain Pengembangan Kerjasama Kelembagaan dalam Peningkatan Profesionalisme Civitas Akademika di Fakultas Ilmu Tarbiyah Dan Keguruan (FITK) IAIN Surakarta
Muhammad Munadi

IAIN Surakarta

Retno Wahyuningsih

IAIN Surakarta

Khuriyah Khuriyah

IAIN Surakarta
Keywords:
Cooperation, Development, Professionalism
Abstract
This research aims to understand the reality of cooperation management, the reality of cooperation development and development design of institutional cooperation on the improvement of civitas academic professionalism in IAIN Surakarta. This research is categorized as non-positivistic research in which in its analysis, it emphasizes more on the words of the object under study. This study was located in Faculty of Education and Teacher Training since it has a lot of spaces for profession development, especially a space for Field Experience Practice (Praktek Pengalaman Lapangan / PPL) program that nearly covers madrasah/schools in eks-Karesidenan Surakarta, a space for Fieldwork Study (Kuliah Kerja Lapangan), and madrasah/schools empowerment activity. The subject of this research is 4 heads of department, 3 heads of deanship and 3 rectorate officials. Data collection technique is using interview, observation, and documentation. Data validity technique is using source and method triangulation. Data analysis is using interactive analysis model. The result of this research shows that: The reality of cooperation management is still "top down" when it is related to the draft planning of collaboration paper. The reality of cooperation development which was started from cooperation without legal protection develops into the one with legal protection. Cooperation development design is developed through user mapping, strengthen the cooperation with school partners which focuses not only on PPL implementation but also on "give and take" activity which has yet happened between madrasah/schools and faculties in IAIN Surakarta.
Downloads
Download data is not yet available.
References
Aka, Karen Y. (1993). Developing Effective Educational Partnerships: The Why, What, and How. http://www.prel.org/products/products/Partnerships.pdf

Amey, Marilyn J., Eddy, Pamela and Ozaki, L. C. Casey. (2007). Demands for Partnership and Collaboration in Higher Education: A Model. New Directions For Community Colleges, no. 139, Fall 2007 © 2007 Wiley Periodicals, Inc. Published online in Wiley InterScience. (www.interscience.wiley.com) • DOI: 10.1002/cc.288

Austin, J. E. (2000a). The collaboration challenge: How nonprofits and businesses succeed through strategic alliances. San Francisco: Jossey-Bass.

Bailey, Fiona & Dolan, Anne M. (2011). The Meaning of Partnership in Development: Lessons in Development Education', Policy & Practice: A Development Education Review, Vol. 13, Autumn 2011, pp. 30-48, available: http://www.developmenteducationreview.com/issue13-focus2

BAN-PT. (2019a). Panduan Penyusunan Laporan Kinerja Program Studi. Jakarta : BAN-PT

BAN-PT. (2019b). Panduan Penyusunan Laporan Evaluasi Diri. Jakarta : BAN-PT

Bjertness, Espen Nijem, Khaldoun, Husseini, Abdullatif, Giacaman, Rita, Holmboe-Ottesen, Gerd and Kristensen, Petter. (2010). 15 years of cooperation in research and higher education between the Faculty of Medicine, University of Oslo, and Palestinian institutions. http://www.thelancet.com/health-in-the-occupied-palestinian-territory-2010

Beneitone, Pablo. (2003). Introduction: Some ideas about University Development Co-operation in Pablo Beneitone, Susan Höivik, Nadia Molenaers, Andreas Obrecht, and Robrecht Renard. (2003). University Development Co-operation Models of Good Practice. http://www. humanitariannet.deusto.es/publica/PUBLICACIONES_PDF/11%20Models%20of%20Good%20Prac.pdf

Czajkowski, Joyce M.. (2007). Leading Successful interintitutional co-llaboration. Using The Collaboration Succes Measurement Model. http://www.chairacademy.com/conference/2007/papers/leading_successful_interinstitutional_collaborations.pdf

Franz, Margit. (2003). Models of Good Practice of International Co-operation – Austria. in Pablo Beneitone, Susan Höivik, Nadia Molenaers, Andreas Obrecht, and Robrecht Renard. (2003). University Development Co-operation Models of Good Practice. http://www.humanitariannet.deusto.es/publica/PUBLICACIONES_PDF/11%20Models%20of%20Good%20Prac.pdf

Goetsch, David L. and Davis, Stanley B. (2006). Quality management for organizational excellence : introduction to total quality; Upper Saddle River, N.J. : Pearson

Himmelman, Arthur Turovh. (1996). On The Theory and Practice of Transformational Collaboration: Cpllaboration As A Bridge From Social Service to Social Justice. London: Sage Publications, 1996, pp. 19-43.

Häggman-Laitila A. & Rekola L. tth. Partnership between higher education and working life – Developing an action model by means of action research.

Peraturan Pemerintah Nomor 30 Tahun 1990 tentang Pendidikan Tinggi

Stern, Thomas. (2004). Cooperation between Schools and Universities as a Catalyst for the Professional Development of Teachers. http://www.hbcse.tifr.res.in/episteme/episteme-1/allabs/stern.pdf

Unesco. (1998). World Declaration On Higher Education For The Twenty-First Century: Vision AndAction http://www.unesco.org/education/educprog/wche/presentation.htm

Vasilyan, Syuzanna. (2004). The Policy of 'Regional Cooperation in the South Caucasus'. Centro Argentino de Estudios Internacionales www.caei.com.ar

Welch, M. (1998). Collaboration: Staying on the bandwagon. Journal of Teacher Education 49, no. 1 (Jan./Feb.): 26–38. Accessed Apr. 24, 2004, http://web7.infotrac.galegroup.com.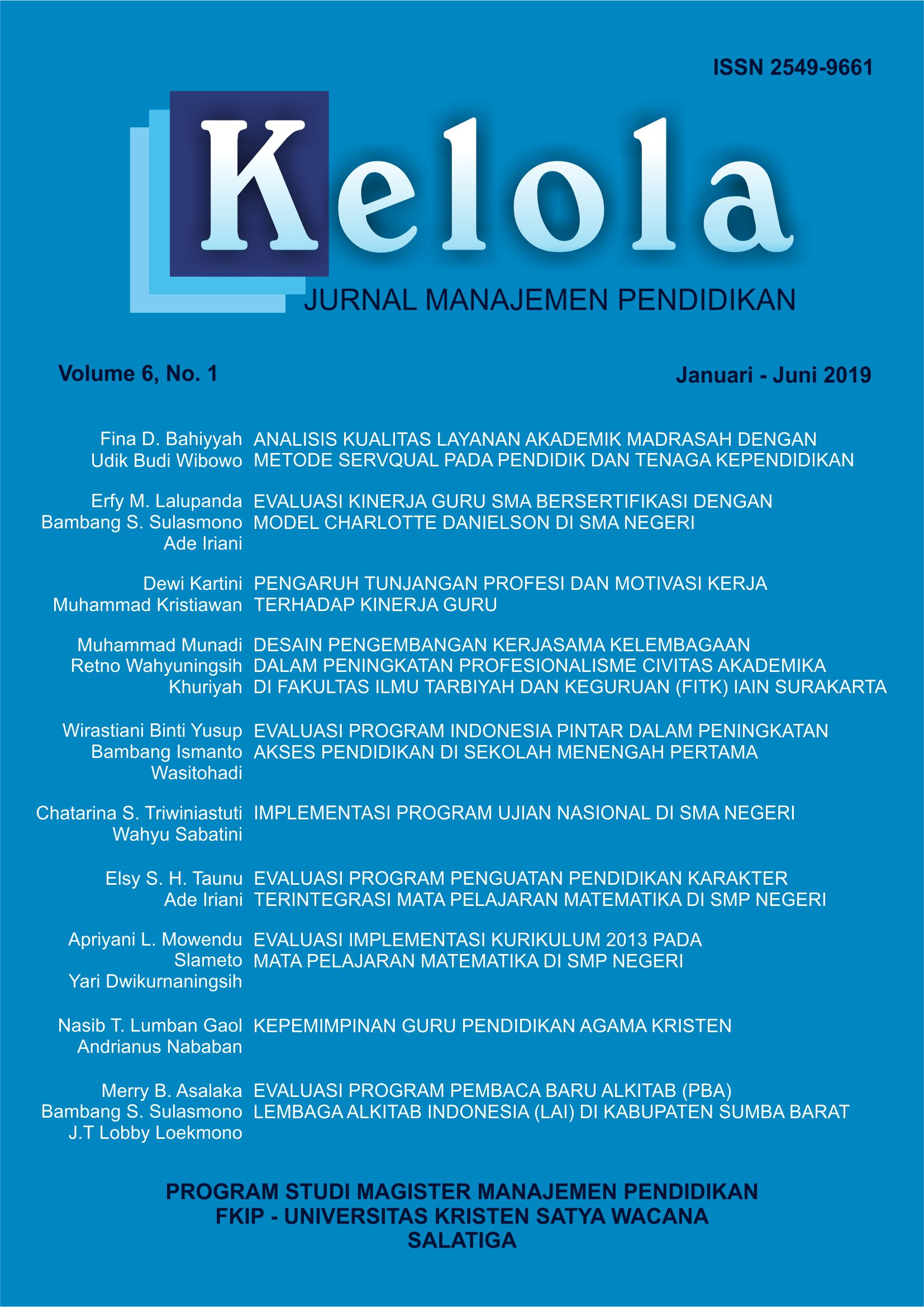 How to Cite
Munadi, M., Wahyuningsih, R., & Khuriyah, K. (2019). Desain Pengembangan Kerjasama Kelembagaan dalam Peningkatan Profesionalisme Civitas Akademika di Fakultas Ilmu Tarbiyah Dan Keguruan (FITK) IAIN Surakarta. Kelola: Jurnal Manajemen Pendidikan, 6(1), 34-43. https://doi.org/https://doi.org/10.24246/j.jk.2019.v6.i1.p34-43
This work is licensed under a Creative Commons Attribution 4.0 International License.

Kelola: Jurnal Manajemen Pendidikan is licensed under a Creative Commons Attribution 4.0 International License