Kepemimpinan Guru Pendidikan Agama Kristen
Keywords:
Christian Leadership, Christian Religious Teacher Leadership, Education, Educational Leadership, Learning Process
Abstract
Christian religious teacher leadership contributes to improving the learning process quality in school and national education contexts. Ironically, Christian religious teachers are still lacking knowledge in leadership, and not applying adequate leadership in the learning process. Thus, this paper was aimed to describe some characteristics of Christian religious teacher leadership that should be implemented. Based on the result of reviewing, these were found some of Christian religious teacher leadership characteristics: (1) serving students with the heart; (2) acting fair according to the truth of God's word; (3) having optimistic to educate; (4) able to manage time well; (5) loving students; (6) making decision objectively and firmly. In an effort to develop the Christian religious teacher leadership, further research and studies are needed to conduct in order to build the Christian religious teacher leadership concept.
Downloads
Download data is not yet available.
References
______. (2010). Himpunan Peraturan Perundang-undangan Sisdiknas: Sistem Pendidikan Nasional. Bandung: Fokus Media.
______. (2012). Alkitab. Jakarta: Lembaga Alkitab Indonesia.
Berg, J. H., & Zoellick, B. (2018). Teacher leadership: toward a new conceptual framework. Journal of Professional Capital and Community, 4(1), 2-14.
Harris, A. (2015). Teacher leadership. International Encyclopedia of the Social & Behavioral Sciences, 2nd edition, 24, 60-63.
Hasanah, D. S., & Fattah, N. (2010). Pengaruh pendidikan Latihan (Diklat) Kepemimpinan Guru dan Iklim Kerja terhadap Kinerja Guru Sekolah Dasar se Kecamatan Babakan Cikao Kabupaten Purwakarta. Jurnal Penelitian Pendidikan, 11(2), 85-96.
Hine, G. S. (2014). Student Leadership Development: A Functional Framework. Journal of Catholic Education, 18 (1), 79-110. http://dx.doi.org/10.15365/joce.1801052014
Hook, D. P. (2006). The impact of teacher leadership on school effectiveness in selected exemplary secondary schools (Doctoral dissertation, Texas A&M University). Diakses dari https://oaktrust.library.tamu.edu/handle/1969.1/3740
Lowery-Moore, H., Latimer, R. M., & Villate, V. M. (2016). The essence of teacher leadership: A phenomenological inquiry of professional growth. International Journal of Teacher Leadership, 7(1), 1-16.
Lumban Gaol, N. T. (2017). Teori dan implementasi gaya kepemimpinan kepala sekolah. Kelola: Jurnal Manajemen Pendidikan, 4(2), 213-219.
Priansa, D. J. (2014) Kinerja Profesionalisme Guru. Bandung: Alfa Beta.
Rohani, A. (2004). Pengelolaan pengajaran. Jakarta: PT Rineka Cipta.
Sari, I. N. (2017). Kepemimpinan Moral-Spiritual Guru dalam Pembentukan Karakter Peserta Didik.(Studi Multikasus di Sekolah Dasar Plus Al Kautsar, Sekolah Dasar Negeri Kauman I, dan Sekolah Dasar Katolik Santa Maria II di kota Malang). (Disertasi Program Pascasarjana UM). Diakses dari http://karya-ilmiah.um.ac.id/index.php/disertasi/article/view/63200
Soetopo, H. & Soemanto. W. (2008). Kepemimpinan dan Supervisi Pendidikan. Jakarta: PT Bina Aksara.
Tomatala, Y. (2002). Kepemimpinan Kristen. Jakarta: YT Leadership Foundation.
Warren, L. L. (2018). Behaviors of teacher leaders in the classroom. Psychology and Behavioral Sciences. 7(6), 104-108.
Willy, J., S. (2009). Lead By Heart Kepemimpinan Andal yang Menggunakan hati. Yogyakarta: Andi.
Winardi. 2000. Kepemimpinan dalam manajemen. Jakarta: PT Rineka Cipta
Wirawan, M. S. L. (2013). Kepemimpinan. Jakarta: PT Rajagrafindo Persada
Wolterstorff, N. P. (2014). Mendidik untuk Kehidupan: Refleksi mengenai pengajaran dan pembelajaran Kristen (Terjemahan). Surabaya: Momentum.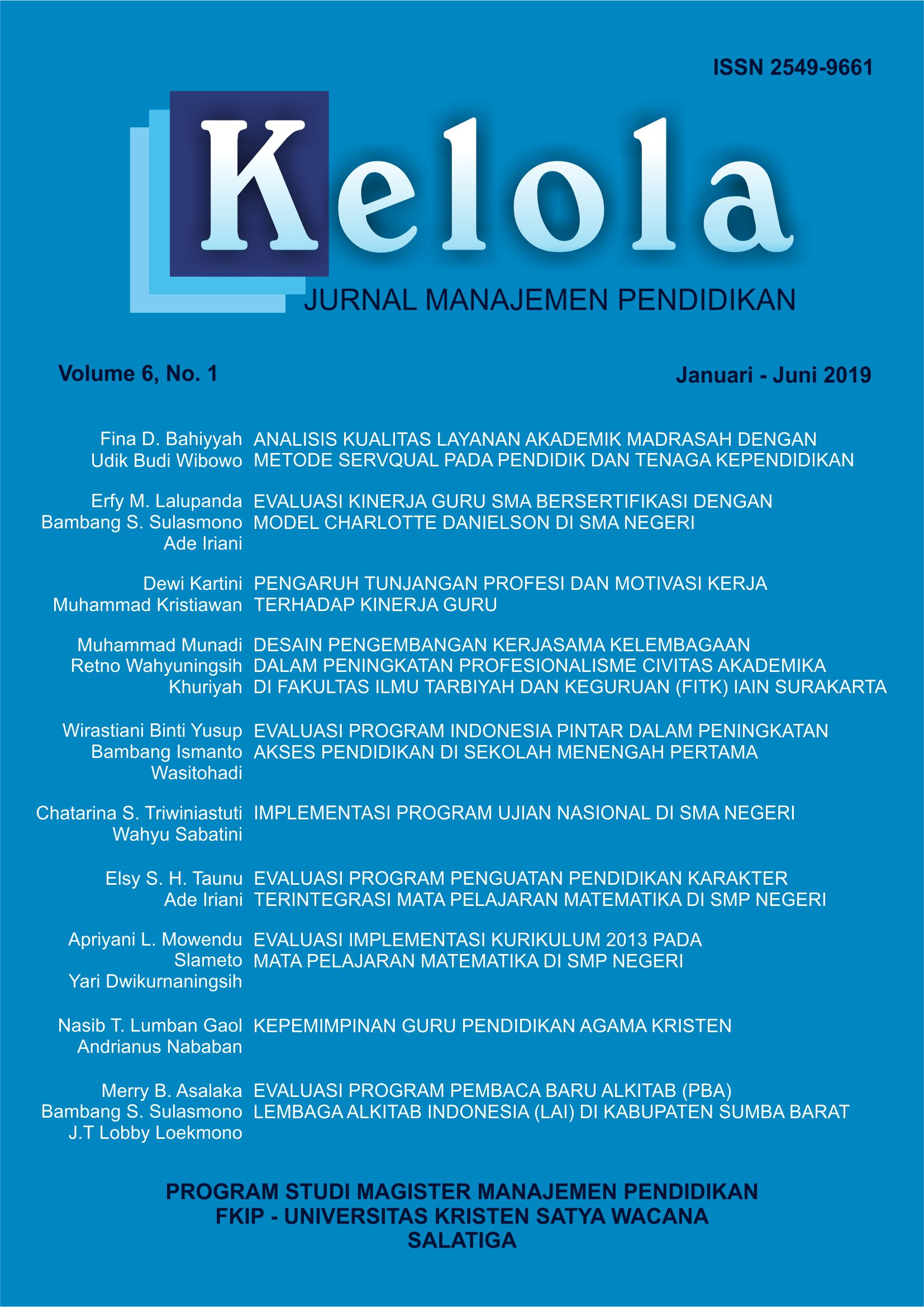 Downloads
How to Cite
Lumban Gaol, N. T., & Nababan, A. (2019). Kepemimpinan Guru Pendidikan Agama Kristen. Kelola: Jurnal Manajemen Pendidikan, 6(1), 89–96. https://doi.org/10.24246/j.jk.2019.v6.i1.p89-96
License

Kelola: Jurnal Manajemen Pendidikan is licensed under a Creative Commons Attribution 4.0 International License