Evaluasi Program Indonesia Pintar dalam Peningkatan Akses Pendidikan di Sekolah Menengah Pertama
Wirastiani Binti Yusup

Sekolah Tinggi Agama Kristen Negeri (STAKN) Palangka Raya

Bambang Ismanto

Universitas Kristen Satya Wacana

Wasitohadi Wasitohadi

Universitas Kristen Satya Wacana
Keywords:
Discrepancy Evaluation Model, Program Evaluation, Program Indonesia Pintar (PIP)
Abstract
This study aimed to evaluate the design, installation, process, product, and analysis of benefits and costs of the implementation of the Program Indonesia Pintar (PIP) in Improving Access to Education in SMP Negeri 7 Salatiga. This research type is evaluative research using Discrepancy Evaluation Model. Data collection techniques used interviews, observations and document studies. Data analysis through: data collection, data reduction, data display, and conclusion. Data validation uses source triangulation and technique. The research results: (1) design components are formulated with reference to PIP Juknis in 2015 covering aspects of objectives, processes, human resources, facilities and infrastructure, (2) installation components there is still discrepancy between PIP implementation objectives with PIP objectives in junior State 7 Salatiga, (3) process components, planned programs are running in accordance with PIP Permendikbud, although in the implementation there are inhibiting factors, (4) product components, the objectives achieved are learners can buy school purposes, paying school administration fees (5) benefit and cost analysis components, PIP funding benefits are great for underprivileged learners, although PIP funds are still very poor in meeting the educational needs of learners each year.
Downloads
Download data is not yet available.
References
Arbainah. (2017). Evaluasi Program Indonesia Pintar di Desa Tajur Kecamatan Long Ikis Kabupaten Paser. Jurnal Administrasi Negeri, Vol. 5, No. 4, hal: 10-12

Astuti Septiani Rini. (2016). Implementasi Kebijakan Kartu Indonesia Pintar dalam Upaya Pemerataan Pendidikan Tahun Ajaran 2015/2016 di SMP Negeri 1 Semin. Universitas Negeri Yogyakarta.

Arikunto. S & Jabar. C.S.A., (2010). Evaluasi Program Pendidikan: Pedoman Teoritis Praktis Bagi Mahasiswa dan Praktisi Pendidikan. Jakarta: Bumi Aksara.

Badan Pusat Statistik. (2017). Tingkat Kemiskinan. Salatiga: Pemda Kota Salatiga.

Boulmetis, J. & Phyllis Dutwin. 2017. The ABCs of Evaluation: Timeless Techniques for Program and Project Managers, second edition. Market street, San Francisco: Jossey Bass A Wiley Imprint.

Depdiknas. (2005). Rencana Pembangunan Pendidikan Nasional Jangka Menengah Tahun 2005-2009. Menteri Pendidikan Nasional. Jakarta: Depdiknas.

Departemen Pendidikan Nasional. (2003). Undang Undang No. 20 Tahun 2003 tentang Sistem Pendidikan Nasional. Jakarta: Depdiknas.

Mulyatiningsih, E. (2011). Evaluasi Proses Suatu Program. Bumi Aksara. Jakarta

Kemendikbud. (2014). Rencana Pembangunan Jangka Menengah Nasional 2015-2019. Jakarta: Kemendikbud.

Kemendikbud. (2015). Rencana Strategis Kementerian Pendidikan dan Kebudayaan Tahun 2015 - 2019. Biro Perencanaan dan Kerjasama Luar Negeri: Kemendikbud.

Kemendikbud. (2015). Peraturan Menteri Pendidikan dan Kebudayaan Nomor 12 Tahun 2015. Petunjuk Teknis Program Indonesia Pintar. Jakarta: Kemendikbud.

Santoso, H.M., Sarjono.Y., Wafroturrohmah. (2014). Pengelolaan Bantuan Siswa Miskin di SMP Muhammadiyah 8 Wonogiri. Jurnal Pendidikan Ilmu Sosial, Vol. 24, No. 2, hal: 35-44.

Sulhan M. & Sasongko Totok. (2017). Implementasi Kebijkan Program Penanggulangan Kemiskinan Melalui Kartu Penjamin Sosial dan Kartu Indonesia Pintar Pada Masyarakat (Studi Kasus di Kelurahan Kauman). Jurnal Ilmu Sosial dan Ilmu Politik. Vol. 6 No. 1, hal: 15-18.

Walikota Salatiga. 2016. Peraturan Walikota Salatiga Nomor 10 Tahun 2016 tentang Rencana Kerja Pemerintah Daerah (RKPD) Tahun 2017. Salatiga: Pemerintah Kota Salatiga.

Widodo, Budi. (2016). Evaluasi Pemanfaatan Program Indonesia Pintar di SMK Cokroaminoto Pandak. Skripsi. Universitas Negeri Yogyakarta.

Zahidy Budhi Achmad. (2008). Perluasan Akses Pelayanan Pendidikan di SMP (Kecamatan Bumijaya Kabupaten Tegal). Tesis. Universitas Diponegoro. Semarang.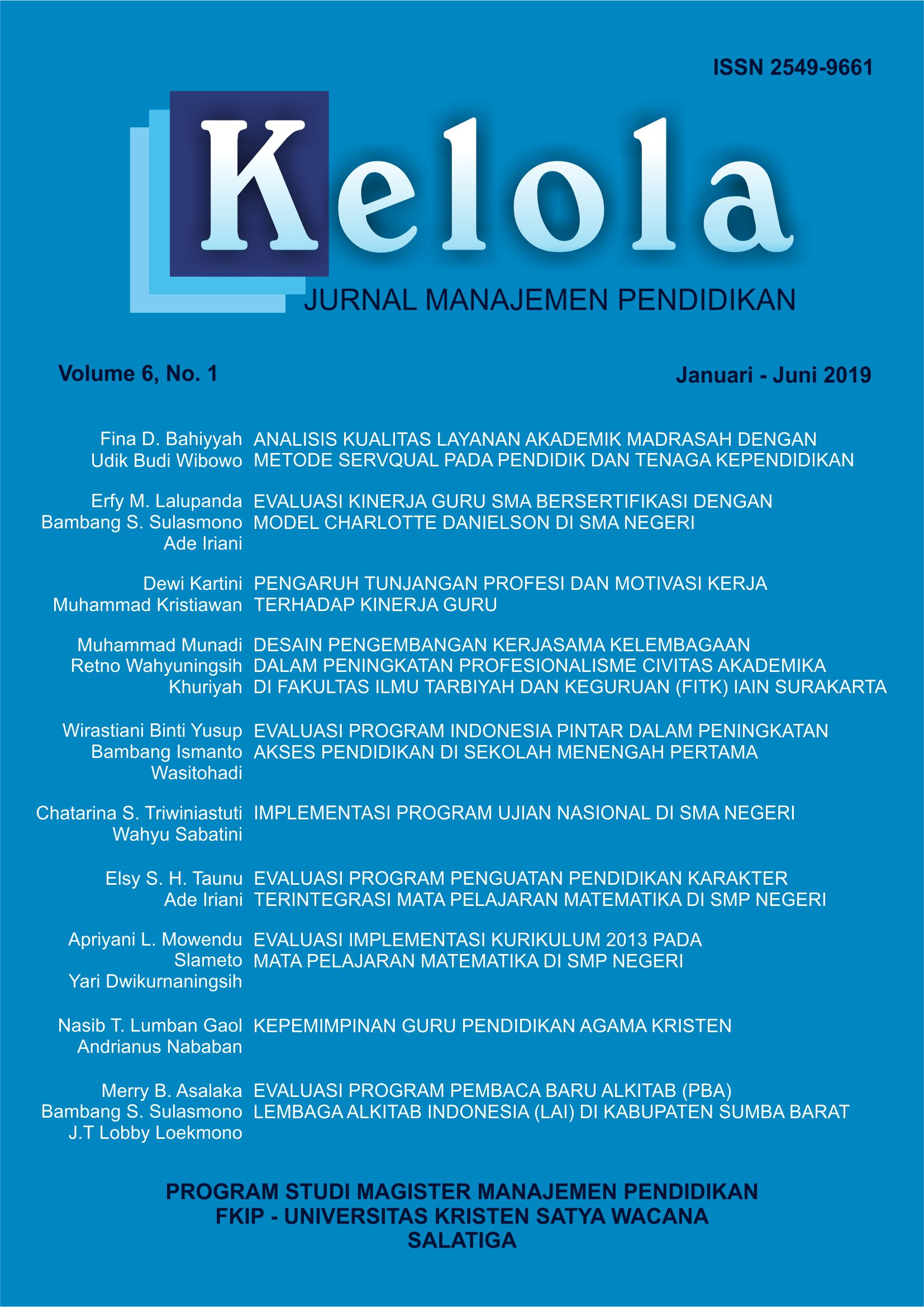 How to Cite
Yusup, W., Ismanto, B., & Wasitohadi, W. (2019). Evaluasi Program Indonesia Pintar dalam Peningkatan Akses Pendidikan di Sekolah Menengah Pertama. Kelola: Jurnal Manajemen Pendidikan, 6(1), 44-53. https://doi.org/https://doi.org/10.24246/j.jk.2019.v6.i1.p44-53
This work is licensed under a Creative Commons Attribution 4.0 International License.

Kelola: Jurnal Manajemen Pendidikan is licensed under a Creative Commons Attribution 4.0 International License